2017 marked 20 years since a forward-thinking group of folks decided that British Columbia should have an organization to foster the growth of the digital media sector in the province and formed New Media BC, which merged with WinBC in 2009 to form the basis of our current DigiBC organization. As we enter our third decade of supporting the Interactive and Digital Media industry here in BC, I'd like to take a moment to reflect on the last 12 months, and look forward to what's ahead for the organization in 2018 and beyond.

2017 was a year of renewal and revitalization for DigiBC. We re-established our mission and mandate squarely at the intersection of 'Where Creative and Technology Meet'. Serving and promoting the adjacent sectors of interactive & video gaming, animation & visual effects and digital marketing/creative was re-established as our primary focus. A new, smaller board of highly committed directors [DigiBC BoD] is now in place and is qualified and excited to take this mandate forward.

Our member companies are characterized by the balance of creative and technology roles within their organizations, blending cutting-edge technology with artistic and creative genius to bring stories, worlds, and experiences to life on digital devices for an ever-increasing number of consumers around the globe. Thanks to BC's rich history of video game development, the province is becoming a hotbed for Mixed Reality development across multiple sectors. 2017 saw our member companies embracing AR / VR platforms, and our audience expand to include people using our products and services for commercial and enterprise, as well entertainment and educational purposes.

DigiBC was responsible for the introduction of the Interactive Digital Media Tax Credit (IDMTC) in 2010, and once again spent a great deal of time engaged with the provincial government to help educate, guide and inform the new administration around the importance of the credit to the stability and growth of our sector. We delivered our 'Recommendations Relating to the IDMTC' white paper in November 2017 and continue to be engaged in a series of ongoing consultations with multiple ministries across government in the run-up to the budget in February 2018. Our key message: that a healthy and vibrant creative technology sector underpins success in broader innovation strategies. Our key asks: that the IDMTC be i) extended indefinitely ii) be increased in a fiscally responsible way so that the scheme remains revenue positive for the province and iii) that interactive Mixed Reality products qualify for the tax credit.
We also contributed to the development of the Digital Technology Supercluster Proposal (as it related to our Creative Technology Sector) and engaged with the federal and provincial government on issues relating to immigration and NOC code changes that would negatively affect the ability of our animation and visual effects companies to continue their growth in the province.
Our role in the ecosystem is now clear, and we are developing closer cooperation with organizations such as Creative BC, MPPIA, and BC Tech, all of whom contribute to the success of our creative technology companies in various ways. But we understand that the Creative Technology sector has unique characteristics, opportunities, and challenges that demand a distinct voice.
Educational Activities
One of the key advantages our sector holds is our natural appeal to youth and the fact that we employ a wide range of people from different backgrounds and skill sets. Video games, animated movies, and VFX are arguably the most accessible faces of technology to the broader population. The natural 'curb appeal' of creative tech continues to motivate many young people to consider careers in technology.

For example, playing video games leads to a desire to want to make video games, which in turn can lead to a broader application of critical and creative thinking, programming, and other skills across all employment sectors. Because of this, DigiBC has been working hard to develop and support a series of educational initiatives, including discussions with the Ministry of Education and private industry around a formal Education Foundation. The Education Foundation initiative plans for a website & events that will foster cooperation between our industry and students, teachers, parents and life-long learners, and support for the BC Game Developers Innovation Award in conjunction with the Science Fair Foundation of BC.
International Activities
DigiBC conducted a number of 'DigiMissions' throughout the year, assisting member companies to participate in events such as the Global VR Summit in Seoul in May, Gamescom in Cologne in August, G-Star in Busan in November, and the VRX Summit in San Francisco in December. The aim of these activities was to both directly assist our member companies in accessing opportunities in overseas markets, as well as raising DigiBC's profile as the voice of creative technology in the province.
We receive an increasing number of inquiries from overseas companies looking to establish in BC and work with colleagues at the BC Trade Office and others to encourage this inward investment, raising the number of employment opportunities for local people in the sector.
Last week, I traveled to Seoul to join Premier John Horgan's mission to Asia, along with the Minister of Jobs, Trade and Technology, Hon. Bruce Ralston, during which DigiBC signed a three-year collaboration agreement with the Gyeonggi Contents Agency as part of the broader three-year action plan between British Columbia and Gyeonggi Province (Greater Seoul).

Digital media is highlighted as a key focus area in the action plan, and DigiBC is proud to be helping drive this type of international business development for our sector. It was gratifying to be invited by the Ministry of Jobs, Trade and Tourism to participate in this mission, and underlines how DigiBC plays a role in helping advise the government in relation to creative technology as a cornerstone of the broader tech and innovation strategy within the province.
DigiBC and the Gyeonggi Contents Agency sign a three-year collaboration plan during a recent mission to Asia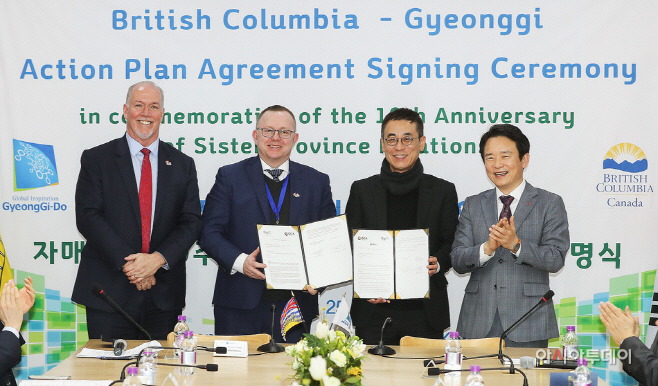 From left to right: Hon. John Horgan, Premier of British Columbia, Canada; James Hursthouse, Executive Director, DigiBC; Chang-hee Oh, President, Gyeonggi Content Agency; Kyung-pil Nam, Governor of Gyeonggi Province, Republic of Korea
Finally…
I would like to let everyone know that as of today, I am stepping down from my role as Executive Director of DigiBC. It has been an enjoyable and rewarding 18 months since the board asked me to take on the role, and I am proud of what we have been able to achieve.
The organization has reached the point where it requires a full-time ED with an exclusive focus on DigiBC, and with new business opportunities continuing to flourish for me, it's time to hand over the reins to someone who will drive the organization forward on a full-time basis. I am very pleased to announce that Brenda Bailey has joined DigiBC as our new, full-time Executive Director. You can read the full announcement here. Brenda brings a wealth of experience in both the digital media and non-profit sectors, and the board could not be happier to have her lead DigiBC into its next exciting chapters.
I will be continuing with DigiBC as a board member, and look forward to working with the board and Brenda to build on the progress made in 2017. Finally, I would like to thank all our members for their ongoing support and participation, and encourage you, if you're reading this and are not already members of Digi, or you have let your membership lapsed, to sign up or renew, and join us as we continue to grow this fabulous creative tech sector in the province.
Sincerely,
James Hursthouse