Creative Technology Youth Summer Camps endorsed by DigiBC
Still trying to figure out some engaging activities for your kids to do this summer? As part of DigiBC's commitment to education for youth, we are excited to announce we've partnered with Under the GUI (UTG) Academy and Think Tank High School on two different online camps. It's a perfect way to empower your kids to become technology makers from the comfort and convenience of being at home!
 
---
DigiCamp: Online Video Game Development Camp for Girls

A student-directed and project-based program where campers will get to create an HTML5 game using PixelPAD and Python. Instructors, Lydia Assion-Nielsen, Mia Gieselmann, and Linda Lee, will tune the curriculum to ensure students are given the opportunity to write code, change gameplay, design levels, update sprites, re-skin their game, and create an app that is uniquely their own. This subsidized program is sponsored by IUGO Mobile Entertainment and will also feature female guest speakers from IUGO who will share their experiences, tips, and secrets from working in the video game industry.
CLICK HERE TO REGISTER (JULY)

CLICK HERE TO REGISTER (AUGUST)
Ages: 10-13
Dates: July 12-16 or August 9-13, 2021
Days/Time: Monday-Friday, 9:00 AM-12:00 PM
Location: Online (Zoom)
Cost: $125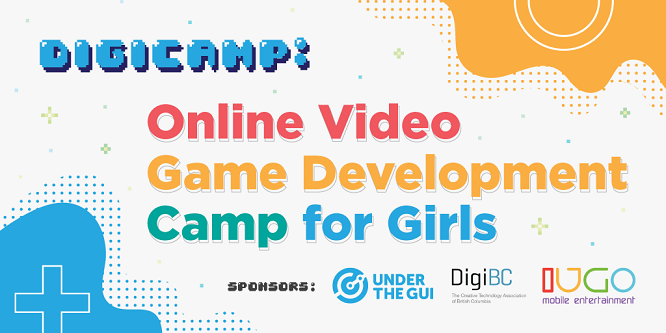 ---
Think Tank High School: Online Summer Creative Courses
Kids can experience what it's like to build the games, animations, and movies they love. These courses are all taught live by industry professionals in small online classes with lots of one-on-one guidance. In addition to creating a mini show reel, students will also learn important life-long skills such as problem-solving, enhanced critical thinking, and developing positive relationships. There's no previous experience required to enjoy these fun and rewarding classes, so it's ideal for those who are new to 2D and 3D training.
 
Choose from the following three courses:
 
Intro to 2D Animation in Toon Boom Harmony

Intro to 3D Game Modeling in Maya

Intro to 2D Game Design
CLICK HERE TO REGISTER
Ages: 12-19
Dates: July 19-30, 2021
Days/Time: Monday-Friday, 10:00AM-2:00PM
Location: Online (Portal platform)
Cost: $699