DigiBC's mission is to promote, support and accelerate the growth of British Columbia's interactive and
digital media industry to the benefit of current and future generations.
Our membership is comprised of companies from the video game/interactive, animation, visual effects, VR/MR/AR, and digital marketing sectors, along with technology enablers and service providers who work alongside our members to help grow the creative technology economy in the province. We seek to achieve our goals through
advocacy & policy engagement, growth programs, talent programs, events, and member benefit initiatives.
ESAC's 2018 Essential Facts Launch Event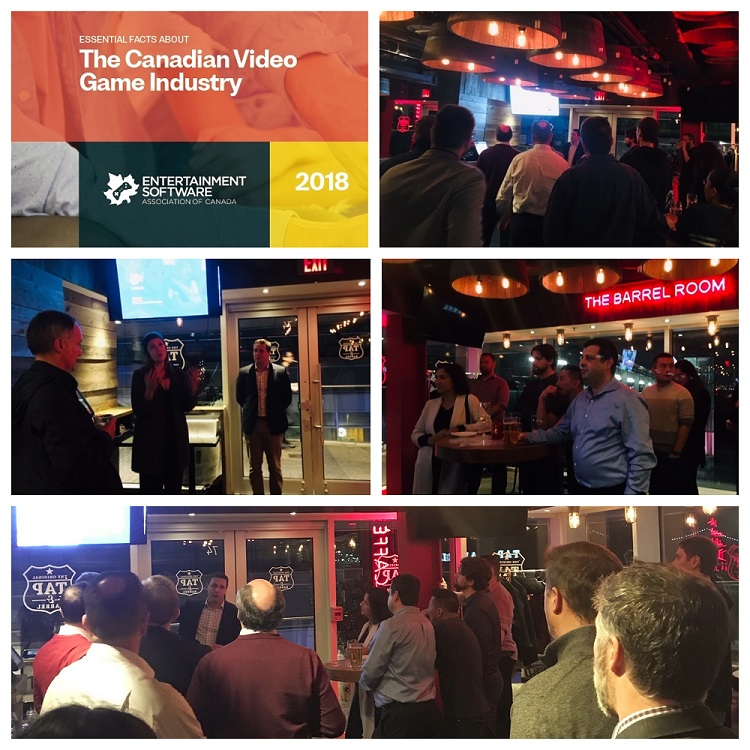 ESAC hosted a cocktail mixer in partnership with DigiBC at Tap & Barrel last night to celebrate the launch of Essential Facts 2018. Folks from the games community were treated to a tasty assortment of appetizers and drinks, in addition to hearing from Jayson Hilchie, ESAC President & CEO, and Brenda Bailey, DigiBC Executive Director. Jayson touched on the results of the study and Brenda talked about the importance of this data when interacting with government and advocating for the creative tech sector. This year's study focused on the Canadian gamer and featured demographic profiles, stats on device usage, video game acquisitions, and ESRB rating awareness. It revealed that two-thirds of Canadians, or 23 million of us, are gamers. This makes Canada home to one of the largest per capita populations of video game players in the world.  Further details on ESAC's 2018 study can be found here.
CDM Charity Poker Event 2018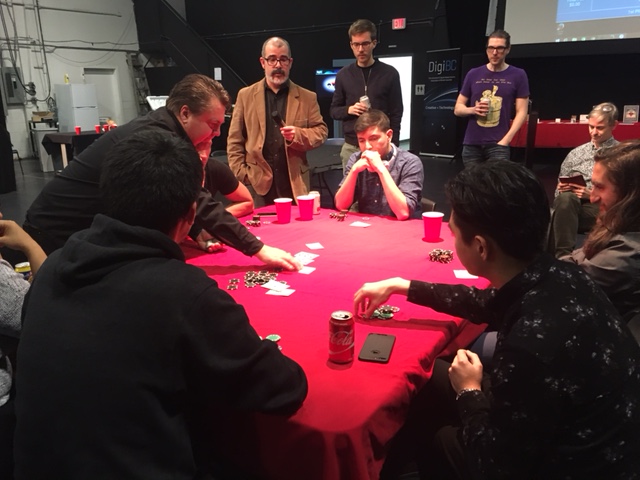 The Centre for Digital Media is hosting a charity event in support of the Vancouver Food Bank on Wednesday, November 28. Industry friends and colleagues can join in for a fun evening of poker, pizza, beer, networking, and a silent auction. Doors open at 5pm and cards start at 6pm with the final round taking place at around 8pm. Non-poker players are welcome, and there will be assistants on-site to help if you want to learn how to play. You are also free to just mingle and check out the silent auction! Participation is by donation ($20 suggested amount) and you can RSVP here.
BC Game Developers Innovation Award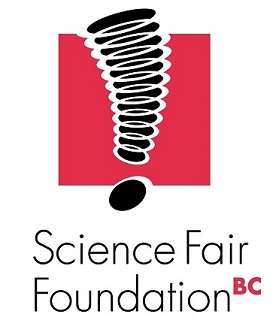 DigiBC is asking for your support through sponsorship of the BC Game Developers Innovation Award, in conjunction with the Science Fair Foundation of B.C. Sponsors will be recognized in at regional Science Fairs across the province and can optionally be involved in judging student projects and hosting winning students at their studio. We already have sponsors in Vancouver, Port Coquitlam, Victoria and Kelowna - please get involved and help make this a truly province-wide award! More info can be found here.
What We Do
Our mission is to help ensure that IDM, as a cornerstone of the broader technology sector, grows and thrives in the province to the benefit of current and future generations. We are involved in ongoing discussions with the government regarding short and long-term policy development, and working with leaders in education to help shape the curriculum from kindergarten through post-secondary to help better equip BC students for fulfilling a career in IDM. We are engaged with programs to help grow the number and strength of IDM programs in the province, and hold a series of networking and professional development events. Member companies and their employees can take advantage of an ever-increasing number of member benefit programs.