On the night of December 4th, DigiBC held its 2014 Holiday Party at the headquarters of HootSuite. Over 150 people from Vancouver and the Lower Mainland's technology industries came out to party, network, win prizes, be merry and eat festively.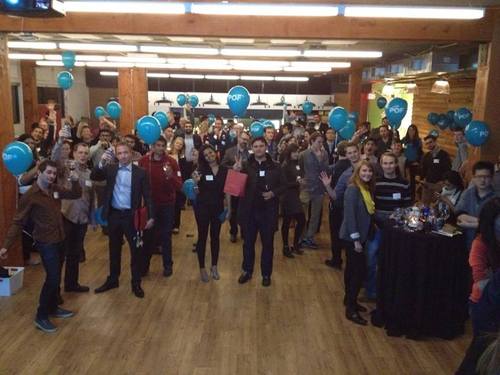 This was our second year holding the Holiday Party at HootSuite. Thanks to the assistance of over a dozen owls, as well as with the help of volunteers from AIESEC, the raffle team from POF, our party sponsors and the DigiBC companies that furnished great door prizes, the event went smoothly and was a great success!
Gifts & Room Destinations
We handed out over $4,000 worth of raffle prizes this year, a record! Some of the amazing prizes that winners walked away with included a pair of interactive snow goggles (courtesy of Recon Instruments); Canucks hockey tickets (thanks to Disruptive Publishers, PwC & Fasken Martineau); a sweet prize basket stuffed with DVDs and movie swag (thanks to our pals at Sony Pictures); a beer-themed gift basket (courtesy of Steamworks Brewery); a video game bundle (Electronic Arts Canada); and so much other goodies.
Just that alone would have made it a fun evening, but when Carly, Kelsey and I started planning this year's Holiday Party, we wanted to go all-out. We reached out to attract sponsors so we could bring in "destinations" throughout the room, to give our guests more to do. And we had three great companies step up to become Silver Sponsors of our party:
Fusion Projects, the interior design team that made HootSuite's incredible working space, sponsored our photo booth
BenefitDeck, an extended health & worker benefits company that specializes in covering the employees for tech companies, brought us the Oxygen Bar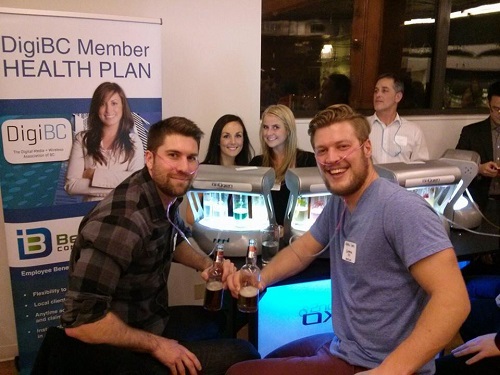 Throughout the night each of these three room destinations were consistently busy. Every time I would glance over at the Oculus Rift, there was a line-up of people waiting to try on the virtual reality glasses. People were putting on wacky costumes and having their group's photo taken, while there was always only standing room around the oxygen bar.
Food & Beverages
It also looks like our choice of Roaming Dragon as the night's provider of snacks and light meals also went over well. Red Truck Beer Company also partnered with us on the night's suds, while Erik & Dave from Vancouver startup Indiloop came through by delivering a full night's worth of DJing and cool tunes.
Also, a thank you should go out to Vitay from Billy Bob's Jerky. Vitay had a table by the snack table, and judging from the number of beef jerky wrappers I spotted people holding, it seemed that there was a lot of nibblers of Vitay's snacks.
With all this activity going on, it's almost easy to forget that people can come to the Holiday Party to network with other tech company owners and employees. And while that's a great attraction to this annual DigiBC event, our team wanted to expand and make this a fun event that offered many different activities for everyone. We hope that we succeeded and surpassed your expectations.

For the people that missed out on going to this year's party, our humble apologies. With more than a week to go until the event, we sold out of tickets. For 2015 we're planning more social events throughout the year, and if demand remains high we'll have to look for larger spaces to accommodate everyone. Keep in the know by signing up for our newsletter or following us on social media (Facebook, Twitter) so when we make those announcements, you'll be among the first to know.
On behalf of Howard, Carly, Kelsey and myself, thank you again for being a part of DigiBC and for making our Holiday Party a great time!
– Patrick Sauriol, Executive Director