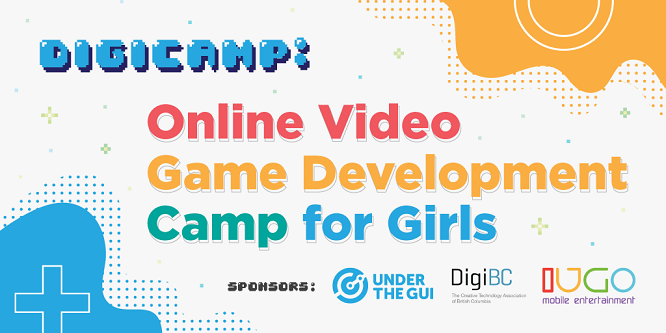 DigiBC's DigiCamp was created to give underrepresented youth in the province opportunities to learn skills, build confidence and broaden interest in careers within the creative technology sector. We're happy to report that the first-ever DigiCamp: Online Game Development Camp for Girls which took place in July and August was a success! We developed this in partnership with Under the GUI (UTG) Academy and had IUGO Mobile Entertainment on board as the sponsor. Huge thanks to both for helping turn this idea into a reality.
The camp was specifically designed for girls aged 9-13 years old and students got to create an HTML5 game using PixelPAD and the Python programming language. UTG Academy instructors (Lydia Assion-Nielsen, Mia Gieselmann & Linda Lee) tuned the curriculum to ensure students had the opportunity to write code, change gameplay, design levels, update sprites, re-skin their game, and create an app that was uniquely their own. The camp also featured IUGO guest speakers, Amie Hulme (Technical Director), Thais Campos (Quality Analyst) and Reina Magica (Game Designer), who shared their experiences, tips and secrets from working in the video game industry.
Below are links to some of the amazing games that the campers made and the instructor's report for the July camp can be read here. Going forward, DigiBC plans to hold this camp again and expand it to include other groups of underrepresented youth as part of our strategic goal of creating an inclusive, diverse and equitable creative technology sector.

July Final Projects

Frances Avery Alexis Sophie Chahal Sarah C Linda
August Final Projects

Anna Amelia Bria Poppy Keira Mia G (Instructor) Lydia A (Instructor)