Strawberry Fields Interactive Inc is a Vancouver-based innovation studio that was formed in 2019 by Danilo Correia and Thales Rodrigues. Their primary vision and mission for the company was to create highly sociable interactive experiences in the digital world. This became the basis for their virtual reality tabletop platform project, Aeksia, which has taken role-playing games to the next level. Aeksia is a virtual place where the tabletop experience and social interaction seamlessly blend, and players can meet to chat, create, play and stream campaigns. To put it simply: Tabletop RPG + social virtual reality + live streaming = Aeksia

SFI has successfully raised around $1.6M CAD in funding to produce Aeksia, and the company is now looking to raise an additional $250k from private investors to close the gap of a $2M CAD production budget. SFI founders have confirmed they will be flying to San Francisco to attend GDC 2022 and are keen to meet with potential investors and publishers who would be interested in supporting the production of Aeksia. We recently caught up with SFI to see what's been happening at the studio and what's on the horizon.

---

►Who are the founders and what are their backgrounds?
Danilo Correia is a producer with solid management experience in the areas of business development, digital marketing, operations, and community building. Since 2015, he has worked in the tech sector in several different roles including being the manager of the BC Tech Cube, a VR/AR co-working studio based in Vancouver that ceased its operations in 2019. Danilo has strong business connections in the global VR/AR industry and tabletop RPG communities, along with proficiency as a project manager in the game development and technical art fields. He created the first proof of concept for Aeksia and is now managing and directing the production and vision of the platform.
Thales Rodrigues is an experienced COO with a demonstrated history of working in the software development and marketing industries. Prior to forming SFI, Thales was the head of Blanko Agency where he led projects for such clients as Microsoft, IBM, BlackBerry, Itau Bank, AMBEV, Zendesk, Salesforce, Launch Academy, and Spring. Being an RPG player at heart, it's no surprise he changed direction to co-found SFI. Now in the role of product manager, Thales is situated in the intersection of business, technology and usability where he researches best practices to define a vision, guide the development of the platform, and ensure consistency with future product offerings.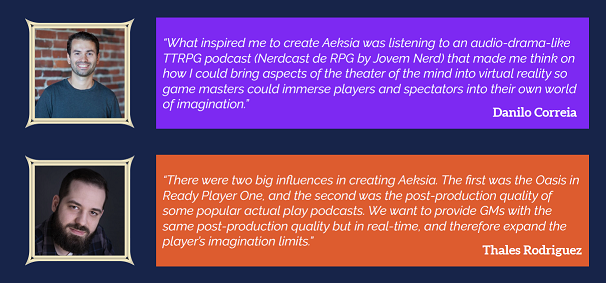 ►What projects are you currently working on?
SFI is bringing the tabletop RPG experience into the Metaverse with Aeksia. Part virtual tabletop, part social platform, Aeksia is a virtual world where role-playing game enthusiasts can meet to create, play and watch tabletop RPG campaigns. The platform is accessible by users with either a head-mounted display or a personal computer with a keyboard and mouse.
We are in an age where playing in-person isn't always possible, and this is not only because of the pandemic. More mature gamers are often busy with work and live too far from their friends to meet up, whereas this new generation of gamers is much more committed to the virtual world. With Aeksia, users can have that round-the-table experience, regardless of the distance, much like the real world but now in a 3D digital environment. Aeksia offers a way to merge the storytelling and social aspects of tabletop role-playing games (TTRPG) into a unique experience. It allows users to join fellow players and regale them with the exploits of their latest sessions, while the game master (GM) sets the scene with the help of 3D models, sound effects and ambient music. All from the comfort of their home!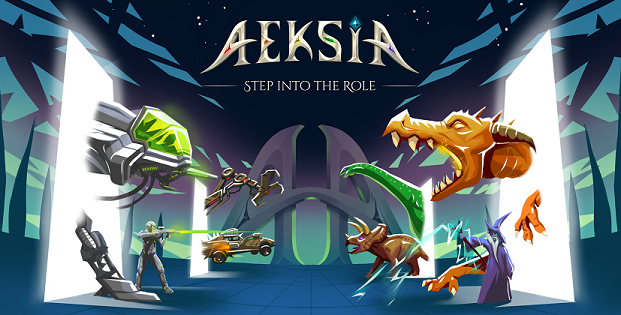 ►How would you describe your company culture?
Aeksia started in an office with three developers working side-by-side at a single table. Their professional relationship has grown quickly — communication has been simple, fast, and effective — with no one too busy to help another. Collaborating in close proximity to each other creates an accessible, comfortable working environment. Roadblocks are handled in real-time, questions between departments and management are answered instantly across the table. Jon, the Development Team Lead, states this is the first time he's worked on a team that feels like a living machine. Every part in its place and within reach — and all without delay.
The onboarding process still brings new members up to speed quickly. Detailed documentation of each member's work allows tasks to be completed by any team member as needed. It's a talented group with many overlapping skill sets. All developers are well versed in unity and C#. Each brings their own development specializations to the team. For every task or problem, there is always someone who either knows the answer, where to find solutions or is willing to learn how to do it on their own. They consider each other to be colleagues, friends, continuous learners, and mentors.


►What would you say sets SFI apart from other studios?
The founders have a history in digital media and technology, and they are entrepreneurs having 15+ years of combined experience in management roles along with a strong network in the industry, most notably in VR/AR. A highly experienced and award-winning team of creatives continues to work on our project, from conceptualization and prototyping to production and marketing. SFI has established a number of key strategic relationships with funders, including Canada Media Fund (CMF), Creative BC Interactive Fund, Shred Capital and key industry leaders.
The founders, collaborating with an executive producer and a product advisor, worked on successful rounds of financing to support the conceptualization and prototyping stages. The studio has been accepted into CMF's Innovation & Experimentation Program and is now embarking on the next stages of production and marketing. Industry leaders at Shred Capital are providing strategic support and bridge financing through to the next stages of product build and launch.

►Are there any other exciting facts about SFI we may not know about?
The name of the company is inspired by The Beatles' song, Strawberry Fields Forever.


►Are you currently hiring? If so, what are the open positions?
The company will soon be opening positions for 3D modellers, illustrators, marketing, community managers and more. In the meantime, current job vacancies can be found here: SFI Careers