This past weekend Archiact Interactive held CVR 2016, a consumer virtual reality showcase at the Vancouver Convention Centre. I was there from start to finish, and what struck me the most was the heavy interest from the public and industry about this event. CVR 2016 was sold out, and the line-up to get in if you were there in the morning was daunting, but once you were inside, it was a sight to see.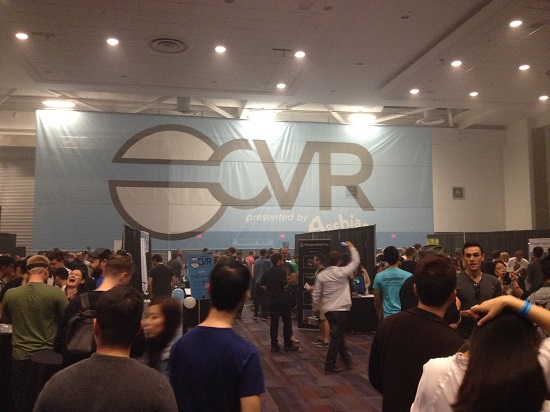 The floor was full with people seeking VR to experience.
Over 25 companies were there showing off their hardware, software or interest in virtual reality. Among the exhibitors were a number of BC-based VR companies such as Archiact, Cloudhead Games (creators of the hit game "The Gallery: Six Elements"), Wavesine (who have developed a modular VR headset), uForis, cognitiveVR and others.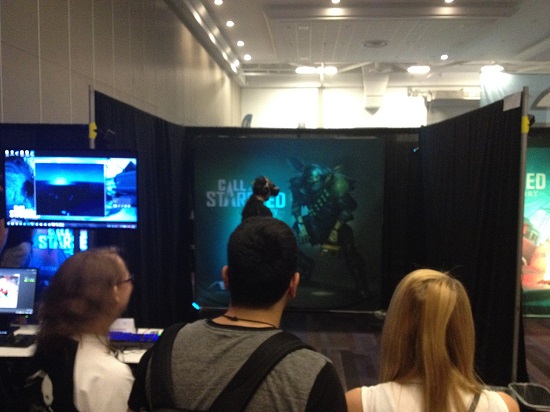 Cloudhead had four booths going for people to experience their VR video game, and the line-up never shrank.
But from an event perspective, what's more impressive was the international representation at CVR 2016. VR companies from around North America and Asia were on hand showing off their creations such as Bellview WA's VRCade and their western shooter; Idealens and their forthcoming VR headset; Chinese-based Ximmerse; and many others. That so many VR companies from outside Canada were exhibitors at CVR 2016 told me that this is an event of interest to the international virtual reality community, and a good sign that Vancouver can emerge as a destination for an annual consumer VR-focused event.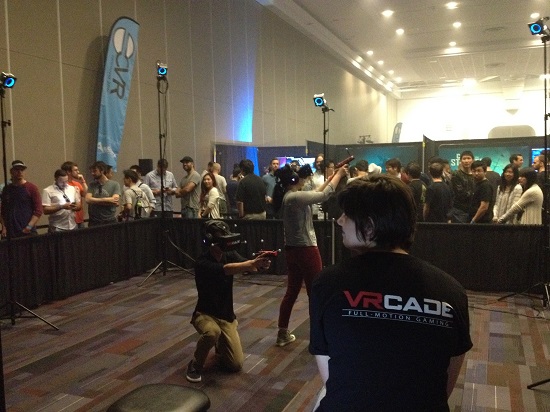 Another big line-up was for VRcade's western shooter.
I presented a panel about the present, near future and 10-years-out look on eCommerce in VR. With only 35 minutes to ask my four panelists questions, the time flew by quickly. The world of VR eCommerce (vcommerce?) is changing rapidly, and my panel gave great insight into what brands and storefronts need to be thinking about 2-4 years from today, if they want to attract VR platform customers. Their insights into the emerging narrative experience, hardware and software challenges, and the science of future VR conversion point thinking made it a fascinating talk.
My thanks to Dora from uForis, Steve from Invoke, Adrian from Aequilibrium and Tony from cognitiveVR, all four Vancouver leaders in the VR space, for being such great panelists.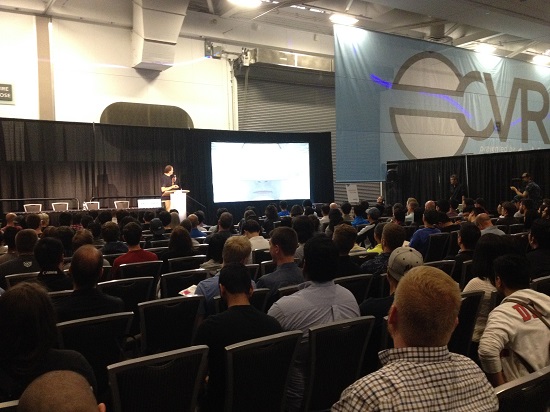 David Clement from Wavesine talks about the hardware he's building for VR.
Walk aways:
There's definitely huge interest in VR from the public. They want to feel, experience and try it out now.

CVR should become an annual event, and grow from this.

The panels were great and covered a wide spectrum of topics. The downside was that the noise from the exhibitor portion of the room made it hard to sometimes hear the speakers.

Great mix of hardware & software applications.

Invite more international speakers in VR to make this a big international event for the industry.
CVR 2016 was an outstanding event thanks to Derek Chen, Robyn Gummer and their team at Architact Interactive. Vancouver's tech community, and our budding VR industry, thanks you for putting this on. You're helping to draw international attention to the great creative and technical work being done right now across BC in VR. I'm looking forward to CVR 2017 and beyond!