The past couple of months at DigiBC has been focused largely on program delivery. We know that the video game, animation & VFX sectors will not continue to grow without securing the talent we need now and into the future. As such, we have been working to raise awareness of creative technology in the province, increasing the knowledge young people have about opportunities in our industry, and enhancing skills in high school students while teaching them about our sectors. We've done this in a number of ways including:
Leading a panel on the creative industries for 800-1,000 high school students at the #BCTECHSummit Youth Innovation Day
Launching Play to Learn outside of the Lower Mainland (the event was held at Cowichan High in Duncan, BC)
Running a province-wide competition where students can create original music for video games and animation called DigiMusic

We also know we can no longer afford to leave people out of our workforce. Diversity and inclusion (D&I) are important ways, not only to have more diverse perspectives and creative ideas in our studios but also to enhance our talent pool. As such, DigiBC and Women in Animation are leading our sector with the following activities:

#BCTECHSummit Youth Innovation Day Creative Industries Panel
Brenda Bailey, DigiBC Executive Director, led a panel of successful young creatives. They shared their stories with 800-1,000 high school students and spoke about how they found their way into creative tech, what their backgrounds are, where they trained, what they wished they knew when they were 16 and what a "day in the life" looks like for programmers, game designers, producers, filmmakers, and emerging leaders. Of the five panelists on stage, three had worked on Oscar-winning properties (two on Spider-Man: Into the Spiderverse, one on The Revenant) and all shared their contagious enthusiasm for their exciting careers.


Play to Learn Launch Event
DigiBC is working to expand the Play to Learn program, pioneered by EA and Everfi, into rural and underserved areas in the province. We launched outreach at the end of February at Cowichan Secondary School, and it was a terrific start to connecting with students who might not otherwise have the opportunity to meet people working in Interactive Digital Media. The expansion continues over the next two years and will be going into 66 rural school districts throughout our province.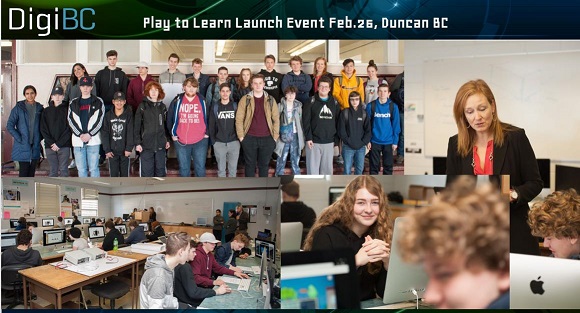 DigiMusic 2019 Initiative
DigiMusic is live! Did you ever wish you could compose the perfect score for your favorite video game or animated film? High schools students across the province have a chance to do exactly that and learn about working in the Creative Technology industry while doing it. This novel and exciting competition was the brainchild of James Hursthouse, DigiBC Board member and hardcore metal fan. James worked with his son's high school music instructor to do a classroom session on composing for video games, and it was such a success he thought, why not take this to DigiBC and roll it out across the province? This evolved into DigiMusic and the inaugural competition runs April 2-30th. It's a fantastic opportunity to connect high school students to our sector, have some fun celebrating the budding musical talent out there in our province. Check the website for further details.


We are guessing that you probably play video games and watch movies, but did you know that British Columbia is home to some of the world's most well-known video game, animation and visual effects companies employing thousands of people with all types of different skill-sets and talents? Have you ever thought that a career in creative tech might be something you're interested in? DigiMusic 2019 is a competition that gives you a small taste of what it's like to combine creativity and technology, as we challenge you to compose music for one or more short clips of video games and animated movies that are being created right here in BC.

We will accept entries from individual composers (students) as well as entries from groups of up to four composers working together. The competition will run from April 2-30, 2019 after which an expert panel of digital media and music industry experts will assess the entries received, and award a range of prizes to both composers and their schools.