Are you a BC high school student looking for something to do over the summer? Do you love music, video games, and animation? DigiMusic Summer 2020 is in full swing and it's free to register!
DigiMusic is a music challenge that offers young musicians and composers a great opportunity to create an original piece of music for a video game or animated film clip that was made right here in British Columbia.
There will be a series of music workshops via Google Meetups throughout July, taught by Corey Smith, who is the Director of Instrumental Music at Collingwood School. All workshops are free to attend (registration required), and aimed at students in grades 7 - 12. To sign up, head over to our event page: https://www.eventbrite.ca/e/digimusic-summer-2020-workshops-tickets-110878809504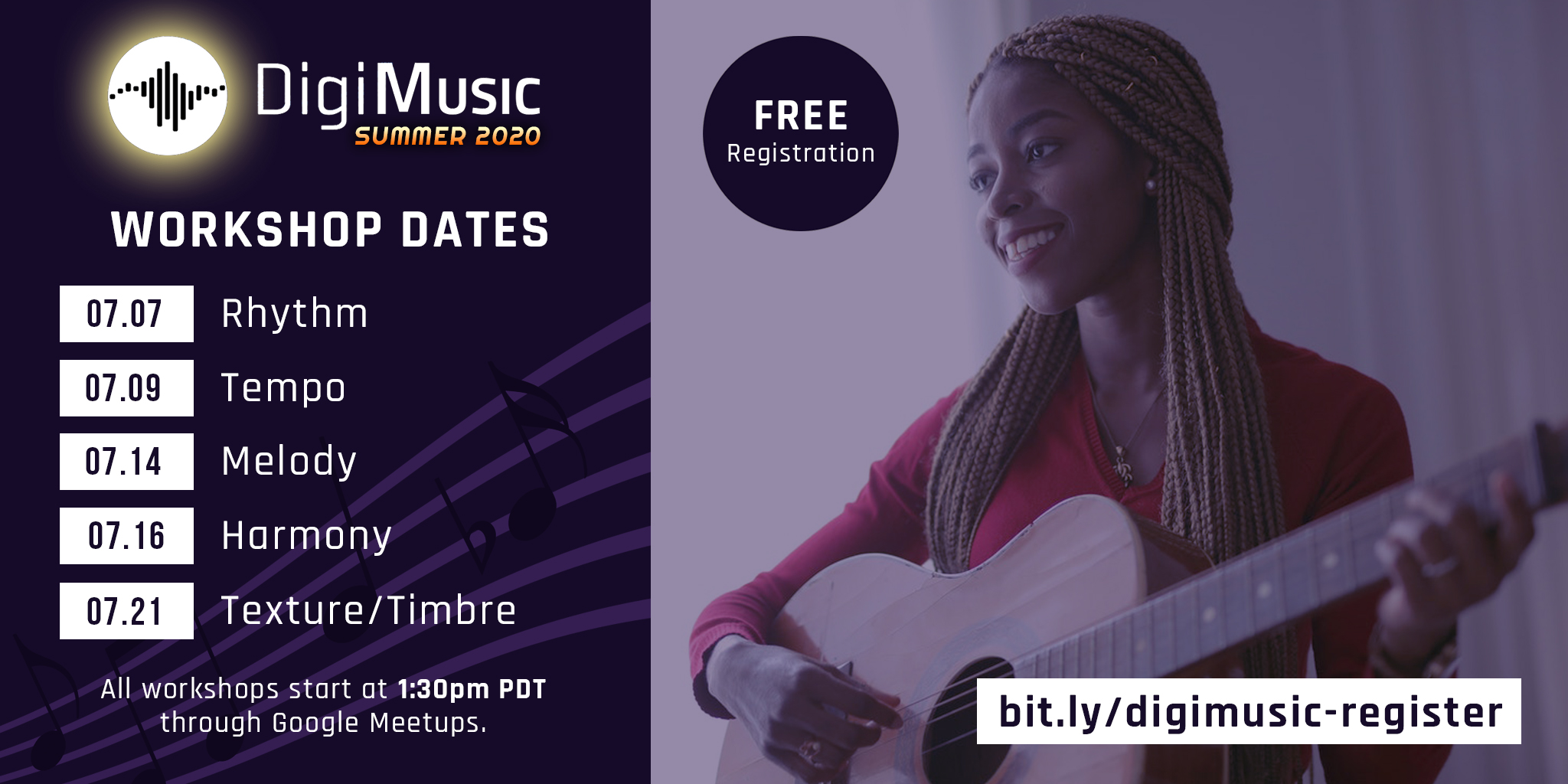 WORKSHOPS AND DATES
*All times are in PDT.
Tuesday, 07.07 @ 1:30pm - Rhythm
"What is the difference between rhythm and beat? How do I implement it in my composition?"
Learn to create a wide variety of rhythms, from simple to complex, layered, and more, while thinking about the overall emotions you want to convey in your piece.
Thursday, 07.09 @ 1:30pm - Tempo
"What tempo works best for my piece?"
Don't miss a beat! Discover the importance of time signatures and experiment with changing tempos of your composition. Find out what BPM works best for the clip you are composing music for!
Tuesday, 07.14 @ 1:30pm - Melody
"How can I create a memorable theme?"
Identify iconic motifs and learn what makes them memorable. Apply this to your own music, creating melodic phrases that lead the listener on a musical journey that tells a story.
Thursday, 07.16 @ 1:30pm - Harmony
"What chords will deliver the emotion I'm trying to convey?"
Creating chord progressions and changing their sound can really affect how a scene is conveyed from an emotional standpoint! Learn how to build intensity, invoke calmness, or generate excitement when crafting harmonies.
Tuesday, 07.21 @ 1:30pm - Texture/Timbre
"What instruments will create the depth I'm looking for? And how many?"
Differentiate between texture and timbre and how they can affect the richness or temperature of music. Discover what instruments will create the sound you're looking for!
Don't forget to check out DigiMusic's Challenge Clips before starting your composition! July 31st is the deadline for submissions, and we look forward to hearing your piece.
Questions? Email us at education@digibc.org!