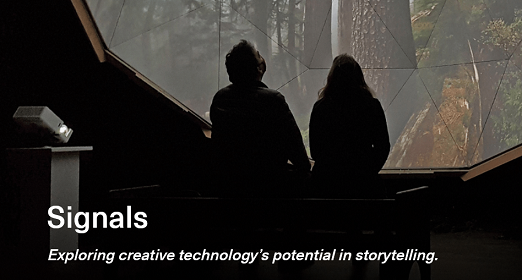 Vancouver International Film Festival (VIFF) recently unveiled the new program Signals, presented by VIFF and DigiBC, that will take place from October 1–2. This is a unique interactive exhibition that investigates the potential of creative technologies in storytelling.

"The industry has long recognized it, but we often don't celebrate the incredible technology and talent in our own backyard," said Loc Dao, Executive Director of DigiBC and Signals Co-curator. "For our inaugural edition, we're thrilled to present made in BC works by Indigenous and settler artists that celebrate the creative power, playfulness, and storytelling potential of new technologies. Visitors will have a chance to discover works created in the convergent space where storytelling meets virtual production, volumetric capture, holograms, wearable technology, VR, AR, and XR."

Signals will take place from October 1–2 at Emily Carr University's Integrated Motion Studio featuring LED wall tech from ShowMax and Departure Lounge, located in the Centre for Digital Media. The exhibition is co-curated by Loc Dao, Debi Wong (Founding Artistic Director, re:Naissance Opera), and Loretta Todd (Co-founder, IM4 Media Lab).

Highlights will include:
Sanctuary: A Tale of Two Forests (by Damien Gillis, Cease Wyss & Olivier Lerouz) - world premiere of new work in this ecological adventure that takes guests through two distinct and threatened BC rainforests

This is Not a Ceremony (by Colin van Loon) - bears witness to the darker side of living life in Canada while Indigenous

Live From the Underworld (by re:Naissance Opera) - an operatic descent into the underworld using real-time motion capture and dramatic avatars puppeted by live performers

The Dark - the first volumetric capture video in Canada that will create an immersive audiovisual experience as part of an upcoming music video featuring Monstercat artists WHIPPED CREAM, Jasiah & Crimson Child
Available Times:
Saturday October 1: 12pm - 2pm // 2pm - 4pm
Sunday October 2: 12pm - 2pm // 2pm - 4pm // 4pm - 6pm

Attendance is free, but availability is limited, so please reserve your ticket early!
===================================



Also part of Signals is V-Unframed, an immersive digital art exhibition that takes place entirely using virtual reality (VR), presented by l'Alliance Française. This will mark the exhibition's fourth edition, and will take place both in-person and online from Oct. 1–3 at the Centre for Digital Media.