The Colombian Government Trade Commission presents the PROCOLOMBIA: Business Matchmaking Forum. This is the perfect opportunity to experience why Colombia is an attractive destination for outsourcing services such as software and IT services, app development, digital marketing, digital content, and animation. The event will be held on April 3-5, 2019 in Bogota, Colombia. Canadian participants will be able to have one-on-one meetings with over 2,500+ suppliers from key industries such as software and digital content services for animation, video games, digital marketing, and other industries (including food, apparel, electronics, automotive parts, among others).

ProColombia can assist Canadian participating companies by providing one round trip airline ticket per company and discounted hotel rates. *upon approval

More information and to submit your registration for the PROCOLOMBIA Business Matchmaking Forum can be found here: https://www.macrorruedasprocolombia.co/macrorruedabicentenario/index.php?tu=comp&ci=4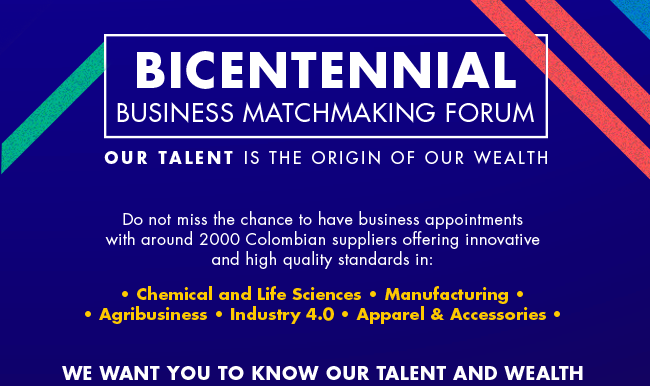 More than 200 one-on-one meetings have taken place between Canadian and Colombian IT and digital creative companies in the past six months.
Click here to read about and meet 27 Colombian companies that switched their business models for the Canadian market.
Why Colombia is one of the strongest Latin American contenders on the global stage within IT and digital content industries
A recent Canada-Colombia market connection program called Gateway to Trade had the objective of utilizing the countries' free trade agreement to build new, targeted service export relationships for Colombia's developing economy. As a partnership project between Trade Facilitation Office (TFO) Canada and ProColombia, the program was supported by the Government of Canada through Global Affairs Canada. To add to the local development sustainability, the program also worked with dozens of Colombia-based trainers to expand across the country for future industry participants, including those in other service industry sectors.

Colombia's tendency to promote the collaborative, mutually-beneficial aspects of cross-border industry development, rather than positioning itself simply as yet another emerging global source of talented tech teams. Many of the Canadian tech firms that connected with Colombia through the Gateway program were members of Interactive Ontario, one of that province's most active advocates of the Interactive Digital Media industry. Interactive Ontario has worked closely with ProColombia's Toronto office to explore north-south opportunities and is currently building on the momentum of Gateway by supporting an early-stage soft-landing project for Colombian tech firms looking to establish a presence in the Toronto area.

Find out more at https://www.nearshoreamericas.com/canadians-discovering-win-win-colombian-digital-industries/
Canada - Columbia: Teaming Up on Digital