A message from the Office of Information and Privacy Commissioner of BC. They are independent and promote and protect the information and privacy rights of British Columbians.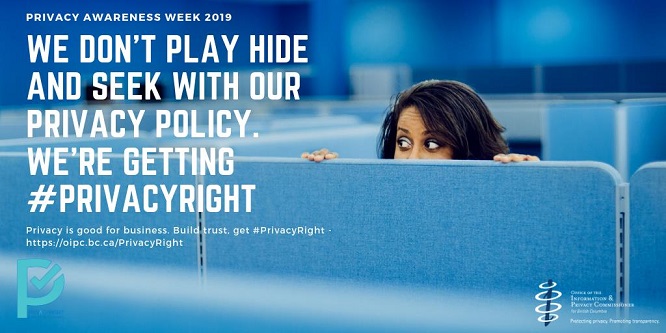 Like most businesses, we know you want to handle the personal information of your customers with care and attention to the law. That's a good thing because British Columbians are becoming increasingly concerned that the personal information they provide to businesses will not be handled properly. And who can blame them? Privacy breaches are becoming a common occurrence in BC. In fact, the number of privacy breaches under BC's Personal Information Protection Act (PIPA) reported to my office increased by 56% from 2015-2018. Here's something else you need to know: you are responsible under PIPA to protect the personal information of your customers and staff. Our new PrivacyRight program is aimed at helping you better understand PIPA.
#PRIVACYRIGHT: Tools to Build Trust
PrivacyRight is a suite of tools – animated webinars, videos, as well as podcasts and guidance documents – designed by my office to demystify your privacy obligations and highlight the simple steps that can be taken to address them. Each month, we're launching releases on different themes that will help you become more "privacy right."
#PRIVACYRIGHT Videos & Podcasts: Putting Privacy Into Practice
What does the use of personal information and obtaining consent look like in the real world? #PrivacyRight's animated pop-up videos show some of the everyday PI and consent issues encountered during a routine trip to the dentist's office: Part 1, Part 2.
The #PrivacyRight Podcast takes a page out of investigative reporting podcasts like "Serial" to offer an in-depth look into some of the most pressing challenges we face in the world of privacy. In the first episode, a job applicant loses out on a competition after a prospective employer finds unflattering information on social media. What are the privacy implications here? Check out the podcast.
#PRIVACYRIGHT WEBINARS: Crash Course in BC Privacy Law & Obligations
The OIPC's #PrivacyRight animated webinars offer a concise, informative, and engaging look into some of the most common questions people have about the Personal Information Protection Act (PIPA).
Webinar 1: 10 basic obligations under PIPA
2a: 10 steps to build a robust privacy management program
Related guidance:
2b: How to write a privacy policy
3: Authority to collect use and disclose personal information:
Conducting social media background checks
Visit the PrivacyRight webpage during Privacy Awareness Week for resources on Notification and Consent!
How can you get involved?
1. Let your employees know that your organization values privacy. Send out an all-staff email about Privacy Awareness Week or post a story on your intranet site. Suggested content attached and can be downloaded here.
2. Get social! We'll be tweeting all week using the hashtags #PrivacyRight and #PAW2019. Here is a suggested tweet that you can use to show your organization's commitment to respecting privacy rights! (Graphics to accompany the tweet can be downloaded from our website and a sample is attached).
[INPUT NAME OF YOUR ORGANIZATION] knows privacy is good for business and that's why we're working hard to get #PrivacyRight. As #PrivacyAwarenessWeek gets underway, check out our [link to your privacy policy/related initiative]. #PAW2019
3. Follow us on Twitter at @BCInfoPrivacy and on Linkedin for future #PrivacyRight updates. We welcome your thoughts on #PrivacyRight. Tell us what else you would like to see as part of the program at PrivacyRight@oipc.bc.ca.