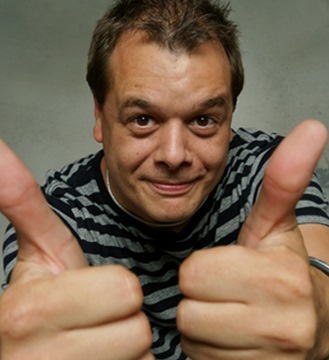 If you visit the Metropolis Mall at Metrotown before September 5 you can experience a one-of-a-kind immersive video and audio experience partially designed by Vancouver-based Go2 Productions. Called MIRAGE, this art installation gives mall visitors a 2-minute experience where their senses of depth are blown away using cutting-edge projection technology.
Adrian Scott is the President and Executive Creative Director for Go2. He took a few moments from his day to speak with DigiBC about MIRAGE and its creation, as well as the kind of cutting edge tech that Go2 is using to dazzle spectators and impress their clients.
DIGIBC: How did the MIRAGE project get its start?
ADRIAN: The concept and engineering for the room came from BOLD Event Creative. They worked with Metropolis last year on a different project called the Infinite Light Room. Both BOLD and Metropolis were really happy with the success of it, they had over 1,000 people coming through that event when it was up last year.
So BOLD contacted us about taking it a step further. We immediately thought about incorporating our latest work with projection and making this new experience a little more immersive. Our team was responsible for developing the technology solution and designing and producing the projected content and soundscape. A perfect partnership.
We wanted to develop a concept that would be ambient enough for all ages and not scary for younger people. It would be a 2-minute experience where people can experience illusion in a way that they haven't before.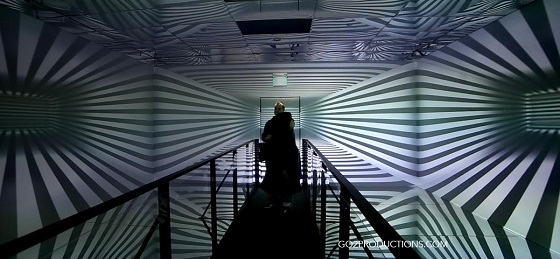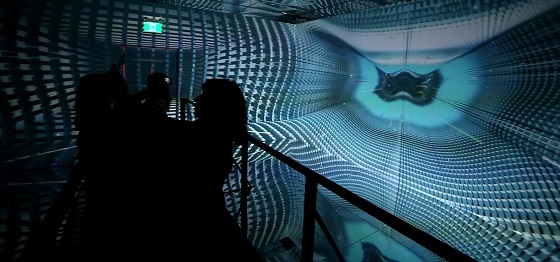 Two looks inside the #METMIRAGE installation at Metropolis at Metrotown Mall.
DIGIBC: Describe what MIRAGE is like to someone stepping inside of it.
ADRIAN: When you see it from the outside, it's a 20-foot square box. When you walk in, the person takes a journey of light and dark, into a colorful expansive geometric illusion. What they get to experience is an expansive feeling.
I'm a fan of Doctor Who, so I like using the way that they describe the Doctor's TARDIS. From outside METMirage looks like a big cube, but once you are inside your brain thinks that it's a lot bigger. Just like the TARDIS!
But that feeling we wanted people to have when they are standing in the mall looking at the outside of it is: what's inside that big box? And what's happening inside of it?
DIGIBC: What kind of technologies did Go2 work on for the MIRAGE experience?
ADRIAN: We use four Optoma DLP projector ultra-short throw projectors inside the installation. These create the 360-degree visuals that people experience once inside. Just getting the projectors to pull of the ideas we had was quite a challenge in itself.
For example, we came up with a unique arrangement for the projectors in the room, what I would call a "jigsaw puzzle" solution. You can't have the projectors throwing the images overlapping with the other projector's image. That meant the positioning of the projectors was especially crucial. We knew that it would be very tight.
In the end it worked out to be 8-degree tilt on the projectors that worked and gave us the effect we needed, to make sure that there was never a gap between the floor and ceiling. In doing that, we're turning a rectangular image into an inverted trapezoid. Limitations of the lenses, the equipment, the whole science behind how projection works was put to test.
Go2 also created all of the graphics that you see inside the experience, as well as the sound and music that goes with it.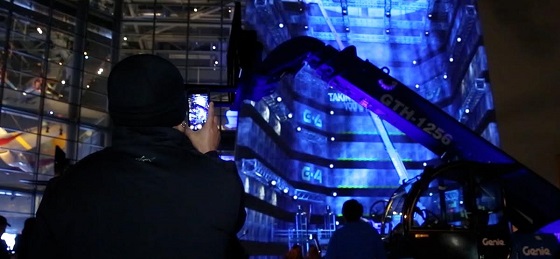 Last year Go2 Productions created a 10-storey 3D animated outdoor projection show on the Boeing Pavilion at the National World War II Museum in New Orleans.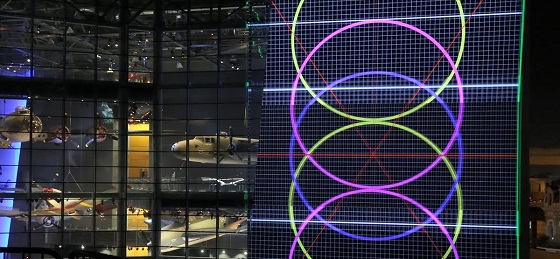 DIGIBC: Go2 has been working in this space for a while now. Where do you see the future of interactive and immersive real world experiences like this headed?
ADRIAN: Go2 has to be very agile and reactive in the experiential world. Where were going is more of an interactive collaboration. We've gone from producing animated pieces to combining art and technology to create some truly unique experiences.
Over the last 6 years we've gone from creating massive building projections to using newer technologies that make what we do more interactive. We're creating sound installations, movement based installations, installations that adapt and are influenced by the visitors.
Also, over the last year we've sent up an in-house development department. Now we build our own systems, develop our own systems, so we can create our own assets and use the data to make a more interactive experience.
What we're trying to do is move more into an interactive entertainment realm, where the show and experience is everything. That's gotten a little lost in recent years. It needs to be more about the experience, and wanting people to go back and re-experience it again. The tech coming out now is really making it an exciting time in that space.
DIGIBC: What is some of that new tech that you're seeing?
ADRIAN: With the speed the technology is changing right now, there are so many avenues where it could do. It's really a case of being able to adapt on the fly, and take new technologies and integrating it into what we do.
For example, the OLED screens are looking really great. That allows us to turn any surface into a video screen the size of a sheet of paper. Suddenly you don't need projectors.
There's also a company in Japan called Aerial Burton that has some amazing new ideas on technology. They have developed a way that ionizes air particles that then creates the effect of pixels in the air. It's primitive right now but I see the potential in five years and how full color, full motion images can be delivered that would truly be holographic, creating images in 3D space in real life.
For Southwest Airlines, Go2 created a projection map against an indoors wall, giving spectators an impressive visual experience.
DIGIBC: Over the years Go2 has created projection displays for the Vancouver Canucks, the walk-in 4D Portal that was at this year's BC Tech Summit, and other immersive or animated displays. Is there a typical sort of client that comes to Go2, or a variety?
ADRIAN: We're the people that companies go to when they want something amazing. If they want to pull something off that's not been done before, to be memorable, that's us. It's all wrapped up in art and design to create an amazing experience.
I think that there's a big interest in creating activations like MIRAGE. For something so big and impressive, I think that it would surprise people to know how easy it is to run. It shuts down automatically, starts automatically, takes pictures and uploads them automatically. It literally takes just one person to operate MIRAGE. One person pushes a green button and off it goes.
One new area that I can talk a little about is creating on camera visual effects for film productions. This is when a movie production needs or wants to have an effect happen on the set and be experienced by the actors. The work could be done in post digitally by visual effects but there's an added benefit by doing it on the day the scene is shot. That seems to be a growing industry for us.
If you want to see more about the visual and immersive creations that Go2 Productions has made for Hyundai, Jimmy Kimmel Live, the Vancouver Canucks, Sports Illustrated and more brands, check out their portfolio.
You can check out MIRAGE at Metropolis until September 7. The installation is open seven days a week, from 12pm to 7pm.
As well, there is a $1,000 prize being given away as a promotion. Visit MIRAGE and share a photo or video to your followers on Facebook, Twitter, Instagram or Snapchat for a chance to win a weekly gift card or the grand prize of a $1,000 shopping spree. Tag your photo #METMIRAGE and use @MetropolisatMet to enter the contest.