COVID-19 Response: The Interactive Digital Media Sector

I describe the state of the creative technology industry during COVID-19 as... the best of times and the worst of times. Like the Charles Dickens reference to London and Paris in a Tale of Two Cities. With our consumers being compelled to spend more time at home, the market for digital content has increased, as well as the opportunity to sell back catalogues and finding new players and viewers for our products. For the most part, video game creators are just as busy, if not busier than prior to COVID-19. New Zoo reports that mobile games sales are up 13.3% YOY, for example. However, this is not the whole story. While most video game studios are "full steam ahead", some studios have experienced a decrease in business development opportunities, largely due to spring biz dev events such as GDC being cancelled. It looks like this has a larger impact on newer studios, as one might expect. How do you show your prototype or game to publishers and investors during a pandemic?
In a recent Nordicity study, Canadian IDM companies were asked to report on their fiscal runways (that is, their ability to cover costs should no new business arrive). Overall, the industry estimated an average of just four months of runway, with micro and small companies hit the hardest.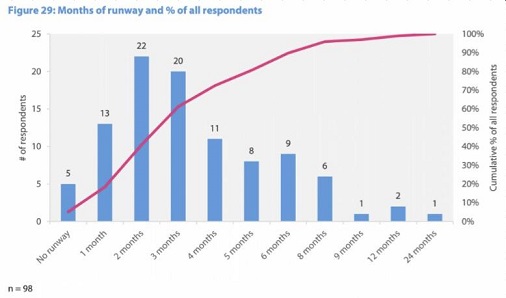 Source: Canada's interactive digital media sector in the COVID-19 pandemic April 2020
With many large video game conferences and tradeshows postponed or having pivoted to an online format for the foreseeable future, the opportunity for Canadian developers to network with publishers, investors and partners, and establish the business relationships that lead to new work has virtually disappeared. This is true across the country, and DigiBC has banned together with La Guilde du jeu vidéo du Québec (La Guilde), Interactive Ontario (iO), Video Games PEI, the Interactive Society of Nova Scotia (ISNS), New Media Manitoba (NMM), Sask Interactive, and Digital Alberta under the banner of the Canadian Interactive Alliance / Alliance Interactive de Canada (CIAIC). The National grouping has fought to assist studios who are having difficulty in two ways.
We are advocating at a national level to ensure that the second allotment of funding for IDM companies is distributed in a way that reaches more of them. The first allotment of emergency funding distributed through the CMF targeted studios that had received CMF funding in the last three years. While helpful for those studios who received it, we argue that there are many smaller studios worthy of cash assistance to get them through the economic downturn who are not CMF clients, particularly in regions that are less well served by CMF, such as BC. As a result of our efforts, an additional $10M is allotted to these IDM studios, and we are working with Heritage Canada and the CMF on a distribution model.

We have secured funding to put on a Canada-wide online business development event, Canada Games Online 2020, and are currently in the planning stages. This will be a first-of-its-kind event providing Canadian video game companies an online forum to showcase their development capabilities and independently held IP, and explore opportunities for new work. The conference will consist of the following two activities.

Market Pulse (September 9 &10): The Market Pulse model builds on the success of La Caravane, an annual training program for the video game industry in Quebec. It will provide guidance on tailoring pitch material for different audiences and needs, along with current international market perspectives to inform game development strategy.

A series of webinars will provide participating developers with presentation training and market updates to develop their pitches to potential publishers, partners and investors. Webinars will be produced specifically for the event and provide curated content relevant to the participating developers.



B2B Connect (September 17 & 18): Participating developers will have the opportunity to engage directly with international publishers, partners, and investors over two days of 1:1 meetings. Using the enhanced B2B event networking service, MeetToMatch, companies will be connected based on shared goals and desired outcome.
More details on the events to follow in the coming weeks, but we are delighted to create these offering and to attract publishers and investors interested in our incredibly talented Canadian video game sector!

~ Brenda Bailey, Executive Director, DigiBC
---
Data Please!
We all know that data is king, queen, and the whole royal contingency, but this is true more than ever in during this pandemic. Our government partners rely on us to collect data on our industry so that we might provide briefings based on fact, not conjecture. DigiBC is well placed to provide this data.
We are part way through a large Sector Labour Market Research (SLMP) project looking at the creative technology labour and education ecosystem in BC.

We are also collecting data on how COVID-19 has impacted IDM studios, and send a huge thank you to all who are participating. For those who are not - please do! This is a pivotal time for our sector, and showing resiliency during a pandemic while illustrating where we can grow and help the province create jobs and stability is key. Whether you are a member or not, we invite you to participate for the benefit of our sector. Contact us for further info.

It is quite possible that those who have lost jobs in one sector may be able to retrain and move into our sector, given that we are still hiring and our talent shortage is real. Are you starting to hire folks from other sectors as a result of COVID-19? If so, I'd love to hear about! How is it working? How is the up-skilling going? Which carryover skills did you prioritize? Email brenda@digibc.org.

~ Brenda Bailey, Executive Director, DigiBC

---
Animation and VFX Alliance of BC News (DigiBC & MPPIA partnership)
As government moves into the early stages of the BC Restart Plan: Phase 3, and the industry moves toward working from the studio again, the Animation & VFX Alliance of BC is pleased to share their COVID-19 Return to Studio Guide.
This guide was created this to provide information and resources that can be tailored to each unique animation and visual effects studio, as part of its commitment to the reopening of safe and resilient studios in BC. We recognize the top priority is the continued well-being of people working in the A&VFX industry, and this guide has been developed with that priority at its core. It is also aligned with government policies and WorkSafeBC standards to ensure studios can provide for the safety, security, health and well-being of employees.
We have encouraged studio leaders of both member and non-member companies and their teams to use this guide in conjunction with trusted government-based resources, as they develop their COVID-19 safe working plans. We want the guide to provide a sense of reassurance for employees within our industry, and invite studios to share the guide with their employees through various ways such as, intranet, email and noticeboards.
Finally, the Alliance would like to give a shout out to the member studios who came together in May/June with the intention of providing an industry-specific guide, supporting studios large and small in BC, in these unprecedented times. This guide would not have come about without this great example of BC studios collaborating.
Please click here to contact the Alliance.