Time Factory Studio is located in downtown Vancouver and specializes in problem-solving, design sprints, and rapid prototyping. They are digital experts, productivity nerds, rapid prototype builders, business strategy connoisseurs, user experience enthusiasts, and are here to help BC businesses build better products… faster!
Have you ever been on a team that was completely misaligned? Worked on projects that were going over budget and time? Or struggled to understand the key features or the main direction of your project? Time Factory co-founders, Julie Puech and Marina Bertoldi have and they decided there had to be a better way. After looking into finding the best ways to develop products and work in teams, they got certified and gained experience in project management, agile methodologies, business strategy, and finally found the ultimate best solution - sprints! The duo is convinced that this is a game-changing process and is now on a mission to transform how teams solve problems. We recently caught up with Julie and Marina to find out more about the services they provide.

When was Time Factory Studio founded? What are your backgrounds?
We officially started Time Factory in 2018, after completing our Master's degree in Digital Media, but we feel it started way before that! The experience and expertise we bring to our business come from our background in engineering, entrepreneurship and project management.
Julie and Marina met at the Centre for Digital Media while completing their Master of Digital Media degree. Julie moved to Vancouver from France, and her expertise comes in the rare blend of computer science, the arts, and design — she can come up with solutions to complex problems in virtually any domain, and then actually build them. She has a Master in Creative Engineering and has worked on multiple interactive projects including an Augmented / Mixed Reality experience for live music events that won the Gerri Sinclair Award for Digital Innovation. Marina is from Brazil, and in addition to her bachelors in Communication, a business degree and her master's degree, she's started and ran multiple successful businesses of her own. She is passionate about business strategy, productivity and what makes products successful. Time Factory is driven forward by our passion for entrepreneurial energy and the digital industry. Who better to solve digital problems for businesses than passionate experts in technology and business?

What does Time Factory do? What do you provide?
Entrepreneurs and businesses come to us when they are facing a challenge on their projects or business, have an idea they can't pursue on their own, building a new product or redesigning a feature and can't afford to waste any more time or money. We have the shortcut to solving their problems. We use proven processes to foster innovation, validate assumptions, deliver killer business strategies and build tangible digital solutions for their problems. We provide a smarter and better way to work in teams and develop quickly more successful products.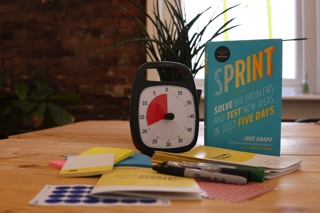 Why would someone want to utilize your services?
Most teams are tackling problems the wrong way, and in the process, they're burning themselves out and wasting time and money to make things that might not even solve the problem. That might sound harsh, but it's obvious to anyone who's looking critically. Data shows that most products launched in the market ended up not being successful. Projects tend to go over budget and over time. Teams are misaligned and turnover costs are astronomical. Companies just can't afford to have those problems anymore.
In just four days, Time Factory can get a whole team laser-focused, generate more and better solutions than they do normally for their complex problems and give them a crystal clear path toward solving them. We test the success of a team's products and projects without wasting any time in development and launching. Making sure that effort, time and money are being used wisely.
Our clients are big companies that have ideas and opportunities they could leverage but don't have the time to get around to trying to solve them. But also, small and medium companies that sometimes lack the expertise or don't have the manpower to solve their main problems in a smart and digital way. By running a Sprint we help them leverage opportunities by validating their ideas, solving their digital problems and challenges, aligning their teams, generating more and better solutions and saving them time and money.

What type of companies would benefit from using your services?
Any company, business or team that wants to work smarter not harder and has no time or money to waste! Our processes and services can be adapted to big companies, solo entrepreneurs, and everything in between. It's more a question of what type of challenge someone wants to solve and how open they are to tackling it in a different way!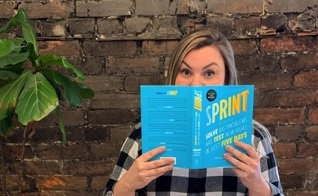 Can you describe the process and what happens after you've been hired for a project?
The sprint process started inside Google from the need to produce better and more successful products, faster! A group of productivity nerds started studying and experimenting with what makes some projects so successful and some not. After years of questioning and experimenting they came up with the ultimate step-by-step process to make any project successful and any problem easy to solve: a Design Sprint!
The process is now called the greatest hits of business strategy, behavioral science, and innovation, and it has spread way beyond Google and into all the big companies like Uber, Airbnb, Facebook, etc. We were taught and certified by the authors of the process and we are on a mission to bring these proven tools and this winning Silicon Valley mindset to BC's businesses.
A Sprint is a step-by-step process that starts with a 2-day workshop to solve a business problem or streamline a product's success. The team invited for the workshop are members involved in the project from different areas to provide diverse points of view. On the first day, we define the challenge, speak with experts, agree on a common goal and generate better and more solutions. On the second day, we combine the best solutions, plan a user test and design what our prototype will look like. Then our team at Time Factory spends the third-day bending time and space prototyping the solution in just one day. And on Wednesday we put the now-tangible representation of our product/solution in front of real users to be tested. By testing with a prototype we get more valuable and precise feedback than by using traditional user research.
At the end of a Sprint, our clients get clarity on their ideas, alignment, momentum, and buy-in from team members and stakeholders, a working prototype, tons of valuable feedback from their real users and a killer strategy to move forward! It is the fastest way to know if your project will be successful and the best way to generate ideas! Enough with old inefficient brainstorming, biases and team struggles!

Who are some of your previous clients?
Our previous clients include RE/MAX Crest, Elevator Strategy, a journalist who worked at the New York Times, and many smaller companies that needed help in their ideation phase.

What is the best way for someone to get in touch and find out more info?
You can get in touch with us by sending an email at sayhello@timefactorystudio.com and get more information on our website: https://www.timefactorystudio.com/
Ready to stop wasting time and money? We are!