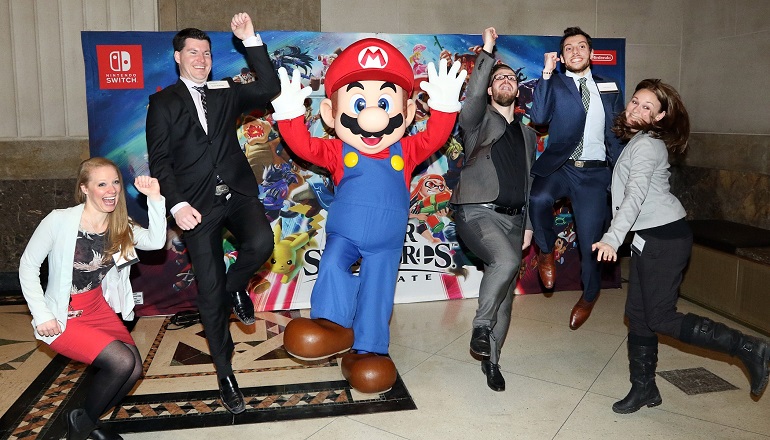 Hill staffers enjoying their time with Nintendo's beloved plumber Mario

On February 4, the Entertainment Software Association of Canada (ESAC) hosted their annual Video Games on the Hill showcase for parliamentarians and hill staff. Held at the Sir John A. Macdonald building in Ottawa, over 250 people were in attendance, including 25 Members of Parliament. Membership participation in the event included Ubisoft Canada, Nintendo Canada, Other Ocean, EA, PlayStation Canada, Xbox Canada, Ludia, and Minors – the winner of ESAC's 2018 Student Video Game Competition.
Video Games on the Hill was graciously sponsored by MP Andy Fillmore, Parliamentary Secretary to the Minister of Canadian Heritage and Multiculturalism. The showcase also welcomed the Honourable Navdeep Bains, Minister of Innovation, Science and Economic Development. Both Minister Bains and MP Fillmore spoke with great admiration for the Canadian video game industry, highlighting its generous contribution to the Canadian economy and its unwavering leadership in innovation.
The 2019 showcase was proud to offer guests the opportunity to experience cutting-edge technology, including Xbox's recently released Adaptive Controller, racing sleds, virtual reality and of course blockbuster titles like Assassins Creed Odyssey, NHL 19, Super Smash Bros., Shadow of the Tomb Raider, and many more. Following the showcase, ESAC and members participated in a number of meetings with government officials in Ottawa. ESAC would like to thank its members once again for their immeasurable contribution to Video Games on the Hill and for their participation in discussions that will undeniably shape the future of our industry in Canada.

To watch the full presentation, visit Entertainment Software Association of Canada
For more information, contact Jayson Hilchie at jhilchie@theesa.ca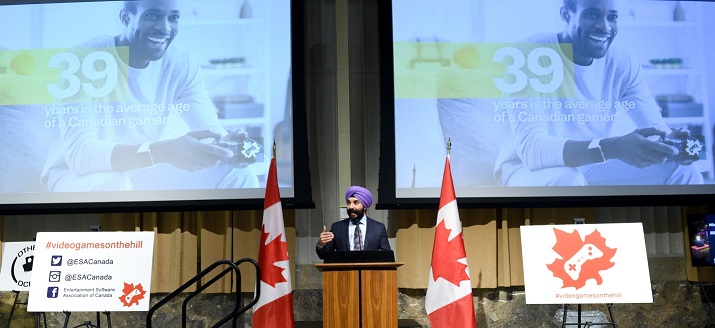 The Honorable Navdeep Bains, Minister of Innovation, Science and Economic Development, takes the stage to share his ongoing support and interest in Canada's thriving video games industry