HTFG @ CBRE has an exciting new project at 1308 Adanac St
This is an upcoming office/light industrial building that is designed for occupiers to have the freedom to create their own space. It's located at the corner of Clark Dr & Adanac St in East Vancouver which has lots of amenities (shops, restaurants, breweries, etc) in the area. The building has common dock loading on the main floor, underground parking, bicycle storage and end-of-trip facilities. Current offerings available for purchase are:
Ground Floor
1 unit just under 8,000 SF facing Adanac St with mezzanine area of 5,252 SF
4 units from 2,172 – 2,744 SF, fronting Clark Dr that offer 32' clear ceiling heights (plus mezzanine in a portion of the space)
3rd Floor
4 units from 2,560 – 3,790 SF, assembly/flex office units with 15' ceiling heights

Inquires or questions?
Alain Rivère: Alain.Rivere@cbre.com // 604 662 3000
website: www.cbrevancouver.com/1308adanac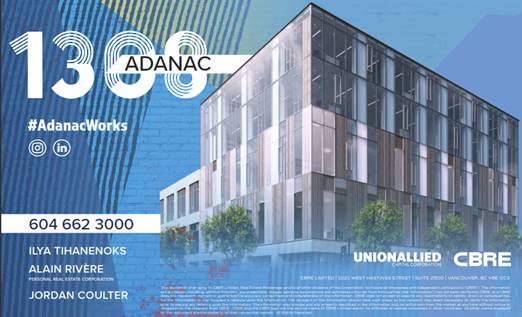 ---
2) The City of Richmond is looking at how to encourage the development of new leased offices near the Canada Line

Richmond currently has incentives focused on large strata office units in the City Centre, and are considering changing these to focus directly on leased space. The goal is to encourage development of new office space that is attractive to dynamic, developing companies in sectors like creative technology, clean tech, IT, education and immigration services to help drive growth and energize the City Centre.
They held an online workshop a few weeks ago to hear feedback and discuss the potential opportunities and challenges surrounding this. While the city's consultation period has ended, you can click the link below to view the presentation deck if you are interested in learning more about what they are doing.
Click here to view slide deck

PLEASE NOTE: deck does not include all of the details that were shared during the workshop