DigiBC recognizes that our members are having an array of business challenges during this crisis, ranging from a few issues to very significant business threats. As your trade association, we are working to ensure our industry, as diverse as it is, comes out of this in the most positive way possible. Our weekly updates will have pertinent information on government policies, industry responses, and tips on getting through this challenging time. Please feel free to contact us if there is something you think should be included or if there's an issue that your business would like help with. We are here for you! Please note, the info from each of our weekly updates gets consolidated into our COVID-19 Member Resources.
---
Week of April 9, 2020

Government Announcements / Policies / Funding

Proposed Additional Measures: Temporary Wage Subsidy Program - Federal
This program has been evolving and a number of organizations (including DigiBC) provided feedback to our government partners on some gaps within it. While well-meaning, it initially missed the mark with regards to the innovation economy. It is not unusual for startups to see 100% growth year over year, and measuring the impact of COVID-19 based on that catchment period is problematic. The proposed measures correct for this by providing further flexibility for employers to access the program. Note, these measures are contingent on passing relevant legislation in Parliament. It's not yet known when they will reconvene as politicians are debating whether to meet in-person or virtually. Key highlights include:
1. Calculations now allow companies to show the required 30% reduction in revenue by comparing the months of January and February 2020, rather than last year at the same time.
2. Companies only need to show a 15% reduction in the month of March. This was the biggest ongoing concern in the startup community, and they are now generally pleased with this revised eligibility.
Canada Summer Jobs Program - Federal
Prime Minister Trudeau said the federal government would cover 100% of wages for students hired via this program.
Canadian Business Resilience Network (CBRN) - Federal
The federal government and the Canadian Chamber of Commerce have partnered to create the CBRN to help businesses of all sizes weather this pandemic and drive economic recovery.

Industry-Related News
Who do you want to be during COVID-19?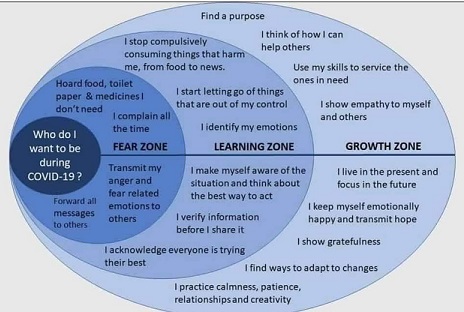 Credit: Oxford Leadership's Self-Managing Leadership Community Group
Signal Boosting / #GiveBack / How Can I Help?
Upcoming Virtual Events of Interest
April 24: F*ckup Nights Canada - Quarantine Edition vol.1
April 25: P.V.P. Pitch Circuit - On Air (accepting pitch submissions until April 16)