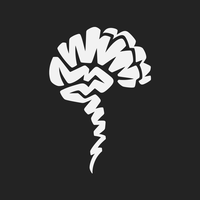 Think Tank Training Centre has launched two brand new Houdini-focused programs with classes set to start February 5, 2024. Designed in collaboration with Houdini experts from across visual effects, animation and game art, these programs will train artists to become specialists in Houdini's innovative procedural-based system with an equally advanced proficiency in other industry-standard tools, such as Unreal Engine, Maya and Adobe Substance.
As working professionals find themselves needing to learn Houdini to remain competitive in the industry, a process which can take years, Think Tank is offering aspiring artists the opportunity to master this in-demand software in just 64 weeks with two full-time programs.

Houdini for Film or Games (64 weeks, online)
Taught through Think Tank's interactive platform, Portal, this program combines prerecorded tutorials, collaborative workshops, and one-on-one mentorship to prepare students for a career in film, TV, or games. Harnessing the power of Houdini, students will master the software's advanced procedural workflow to create elevated animations, VFX sequences, and 3D assets for games in a highly demanding, full-time setting. Students work to create a portfolio that is catered toward a particular career, and often, a specific studio.

Houdini + 3D for Film or Games (48 weeks, online // 16 weeks, on campus)
Like the fully online program, the first 48 weeks of the program allows students the flexibility of learning remotely. The final 16 weeks of this program takes place at the Think Tank Campus in North Vancouver, an international hub for film and games. Hybrid students have the opportunity to work directly with a personal mentor while taking advantage of the full Think Tank experience which includes access to exclusive events, seminars from local studios, and the chance to work alongside CG artists from a variety of specializations.

What to expect?
These programs are for artists looking to work at one of the many visual effects, animation or games studios who are adopting Houdini into their pipelines. Students must be ready to dedicate at least 40-60 hours a week to their studies but are not required to have previous experience in computer graphics. All software licenses are provided, and students attending the hybrid program get access to state-of-the-art workstations when on campus.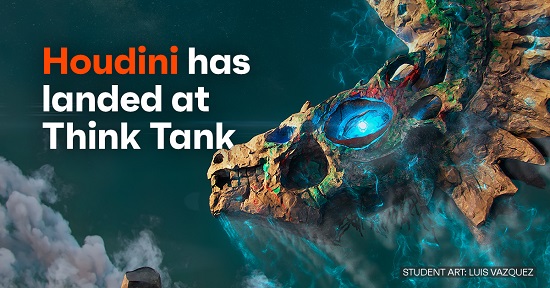 =============================
About Houdini
Developed by Toronto-based SideFX, Houdini is a powerful 3D animation and visual effects (VFX) tool that offers a unique set of features and benefits that make it an asset for artists, designers, and animators. What makes Houdini special is its advanced procedural workflow and its ability harness traditional 3D software and export to powerful game engines to create complex animations and effects using a node-based procedural approach. Artists can create sophisticated models, simulations, and animations using a series of interconnected nodes, rather than relying on pre-made tools or manual processes. Houdini. Well established at the heart of modern VFX workflows.

About Think Tank Training Centre
Founded in 2005, Think Tank is a visual effects, game art, asset creation, and animation school empowering the next generation of creators. Based in North Vancouver at their state-of-the-art campus, Think Tank also serves their global community through a proprietary teaching platform, Portal. Ranked in 2023 as the #1 school in Canada by the prestigious website The Rookies, Think Tank continues to provide students with a high-end education, along with the ability to establish rewarding careers in TV, film, and video games. To learn more, visit www.tttc.ca

Media Contact:
Corey Abell
Head of Marketing, TTTC
corey@tttc.ca
=============================
---