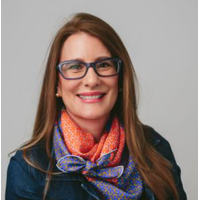 Vancouver, B.C. – The Centre for Digital Media's Great Northern Way Trust has appointed veteran digital media entrepreneur and executive Catherine Warren to take on the role of president. Warren will guide the strategic growth of a vibrant campus community of creators, innovators and educators, overseeing GNW Trust's groundbreaking joint venture between the University of British Columbia, Simon Fraser University, Emily Carr University of Art + Design and the British Columbia Institute of Technology.
Reporting to and serving on the Great Northern Way Trust board, Warren will provide overall leadership for GNW Trust, including its four key business areas: the Centre for Digital Media, real estate development, property management and the endowment fund. "Catherine brings a valuable blend of digital media entrepreneurship, business development acumen, as well as the academic values to lead the GNW Trust and the Centre for Digital Media district into the future," said GNW Trust board chair Morgan Sturdy. "She takes the helm at a pivotal time of growth for Vancouver and for interactive media. Her extensive professional relationships in Canada and around the world will help to build our community and broaden our reach for years to come."
Warren joins GNW Trust from the private sector as president of FanTrust Entertainment Strategies, a pioneering international digital media business development consultancy based in Vancouver. Throughout an illustrious career in digital media spanning more than three decades, Warren has lived and worked in Canada, the U.S., UK and Europe.
Born and raised in British Columbia, Warren was part of the New Media BC board that brought together the original vision and funding for Great Northern Way's Centre for Digital Media. "Coming aboard GNW Trust now, as the Centre for Digital Media's graduate program prepares to celebrate its 10th anniversary, I feel grateful to have come full circle as we look forward to the next decade of global digital transformation and to our city's growth," says Warren. "I'm honoured to take a lead role in facilitating the growth of British Columbia's digital media industry and community, and to evolve GNW Trust's strategy and vision together with the distinguished board and expert staff, faculty and students."
To continue breaking new ground in the fast-paced world of digital media content, technology and relationships, Warren will remain on various independent boards and continue leading select, strategic FanTrust activities. Currently, Warren serves on the board of DigiBC, the industry association for video games, animation, visual effects and digital innovation; is a longstanding board member of Canada's Bell Fund, the country's largest private fund for digital media associated with television; is an executive board member of the World Summit Awards, a United Nations flagship program dedicated to celebrating the best in digital and mobile media from 167 countries; as well as various corporate and academic boards. She is a member of the International Academy of Television Arts & Sciences, renowned for the Emmy Awards, and serves on the Academy nominating committee.
Warren has a bachelor's degree in physics from Reed College in Portland, Oregon. She received her master's degree from the Columbia University Graduate School of Journalism in New York, where she did her original thesis work on-site at MIT covering the launch of its Digital Media Lab, and won the Correspondent's Fund Award to investigate the race between Europe and America at CERN, the European Centre for Particle Physics Research.
ABOUT THE CENTRE FOR DIGITAL MEDIA & GREAT NORTHERN WAY TRUST
Join us where creativity and technology converge: the Centre for Digital Media. Located in the heart of Vancouver, the Centre for Digital Media is a thriving district for entrepreneurship, education and public engagement. Led by Great Northern Way Trust, a groundbreaking joint venture between the University of British Columbia, Simon Fraser University, Emily Carr University of Art + Design and the British Columbia Institute of Technology, this 10.5-acre destination is home to a pioneering master's degree program, parks, art galleries, artist and game studios, tech workspaces for creative industries and university live-work residences. Graduate students receive a powerhouse degree bearing the seals of the four Great Northern Way Trust partner institutions and connections to globally-recognized industry partners. 2017 marks the 10th anniversary of this innovative Master of Digital Media program and the beginning of a new phase of strategic growth, including vibrant real estate development, a new campus for Emily Carr University, public transit and community transformation.
To set up an interview with Catherine Warren and for more information, please contact:
Ruth Atherley of AHA Creative Strategies
604-787-7379
---