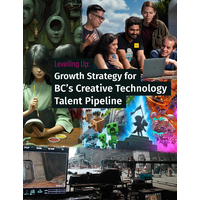 VANCOUVER, APRIL 20, 2023 — Since the first video game company was established in British Columbia in the late 1980s, the province's creative technology sector has grown into a globally recognized hub, providing over 16,000 jobs across video games, animation, visual effects (VFX) and extended reality (XR). Ensuring a robust talent pipeline for this industry is vital for its ongoing success and long-term resiliency. A report released today by DigiBC, the Information and Communications Technology Council (ICTC), and B.C.'s Ministry of Post-Secondary Education and Future Skills (PSFS) describes key pathways for building a strong and equitable talent pool for B.C.'s creative technology sector.

Levelling Up: Growth Strategy for BC's Creative Technology Talent Pipeline examines how industry, educators, and government can work together to ensure all British Columbians are aware of and have access to the spectrum of career opportunities available across creative technology. The report identifies critical building blocks that can be leveraged throughout the creative technology ecosystem in B.C. to attract, educate, hire, and support the next generation of workers. The strategy report has received input and support from government, industry, and academic partners.

BC Minister of Post-Secondary Education and Future Skills, Selina Robinson, reacted to today's release saying, "Developing creative technology talent locally is important to strengthening B.C.'s technology sector. We must ensure that British Columbians can access the education and skills they need to pursue rewarding vibrant careers in the creative technology sector."

Brenda Bailey, BC Minister of Jobs, Economic Development and Innovation offered, "Vancouver is a leader in North America for tech job growth, and I continue to hear that the sector's greatest need is workers. That's why we're taking steps to make the industry more accessible to diverse and underrepresented British Columbians. This DigiBC report encourages the industry to invest in a talent pool that reflects the diversity of British Columbians, which is at the heart of our work to build a strong and inclusive economy that works for everyone."

In addition, Lana Popham, BC Minister of Tourism, Arts, Culture and Sport offered her support of the strategy report stating, "The creative technology sector provides high paying jobs and opportunities for youth to participate and play. It's a rewarding and exciting career path for workers, and it's great to see partners proactively plan for a diverse and skilled workforce well into the future."

Namir Anani, President & CEO of ICTC, which partnered with DigiBC to develop the creative technology growth strategy, building on the two entities' previous collaboration on a sector-wide benchmarking study said, "B.C.'s creative industry is increasingly recognized around the world and boasts healthy prospects and contribution to the economy. Encouraging education and training from early schooling to post-secondary and beyond will build a strong talent pool, boost innovation, and support the creative industry to scale up in the coming years."

The strategy highlights the need to showcase pathways to creative technology careers for K-12 students, facilitate the transition of post-secondary students to the workforce, identify pathways for individuals reskilling from other industries, and promote dialogue and actions to centralize equity, diversity, and inclusion. Key initiatives in the report include:
Increasing awareness of the creative technology sector for K-12 youth via large-scale events and hands-on workshops

Developing resources to support employers and post-secondary students with increased work-integrated-learning opportunities

Partnering with training institutions to develop novel pathways for skills development, including micro-credentials

Providing employers with resources to support diversity, equity and inclusion policies and initiatives

Developing a sector-wide mentoring network




Loc Dao, DigiBC's Executive Director, expressed gratitude for the support and collaboration of government, educators, and industry partners who contributed to the strategy development. "We're very pleased to have worked with the Province of BC, B.C.'s post-secondary institutions and our member companies to develop a strategy to meet the demand for talent in our province's vibrant creative technology sector. British Columbia is home to one of the world's fastest growing creative tech hubs and we look forward to advancing it with the execution of this strategy."
For over 30 years, B.C.'s creative technology ecosystem has flourished and today the province is now home to an estimated 250+ animation, VFX, video game and XR companies, producing content that is enjoyed on screens worldwide. There is a consistent demand for roles in these sectors, therefore it is crucial we continue strengthening B.C.'s creative technology talent pipeline to stay competitive globally and to ensure the industry's long-term resiliency and success for future generations.
CLICK HERE TO READ THE FULL REPORT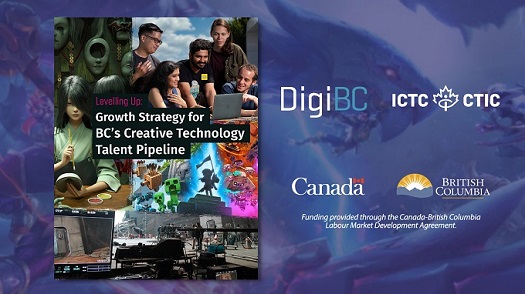 ---
About DigiBC
DigiBC represents British Columbia's creative technology industry, and its membership includes companies from across the video game & interactive, animation, visual effects, VR/AR/XR, and virtual production sectors, along with technology enablers and service providers. The association's mission is to promote, support, and accelerate the growth of B.C.'s creative technology industry to the benefit of current and future generations.

About ICTC
The Information and Communications Technology Council (ICTC) is a neutral, not-for-profit national center of expertise with the mission of strengthening Canada's digital advantage in the global economy. For over 30 years, and with a team of 110 experts, ICTC has delivered forward-looking research, practical policy advice, and capacity building solutions for individuals and businesses. The organization's goal is to ensure that technology is utilized to drive economic growth and innovation and that Canada's workforce remains competitive on a global scale.
---
To arrange an interview with members of the teams involved in the creation of this report, please contact:

DigiBC: Colleen Arndt, Marketing & Communications Manager, at colleen@digibc.org

ICTC: Paul Stastny at p.stastny@ictc-ctic.ca or 403.351.0138 Ext. 823

Funding for this study was provided through the Canada-British Columbia Labour Market Development Agreement.

---