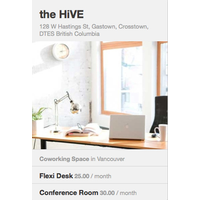 In February Techvibes covered a Canadian startup with plans to tap the growing co-working and "collaborative consumption" trend by building an office sharing platform. We tagged their plans "Airbnb for workspaces." Today they officially launched in beta.
Vancouver-headquartered ShareDesk has built as slick platform that includes hundreds of office spaces worldwide—of which 650 are easily bookable online.
As far as we know ShareDesk is the only Canadian company tackling workspace rentals online—their biggest competitor is US-based Loosecubes.
According to co-founder Kia Rahmani, SharedDesk is more flexible than other solutions and allows desk surfers to book multiple days, weeks, or months in a single transaction.
Nomad workers can search for shared spaces by city or even provide ShareDesk with the address of a convenient location where they would like to work.
And if you have a spare desk in your office, you can add it to ShareDesk in minutes by creating profile to showcase your space and start accepting bookings
---