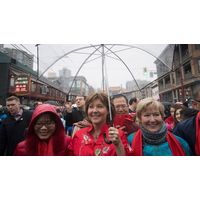 VANCOUVER, BRITISH COLUMBIA -- (January 30th 2017) - DigiBC, the industry association for the interactive and digital media (IDM) sector in British Columbia, supports the BC Government's decision to provide relief from the 15% foreign buyers tax for those coming to BC on work permits because it helps BC retain and attract highly-skilled workers to contribute to our vibrant technology sector.
DigiBC represents the IDM sector in BC, encompassing video game, animation, visual effects, virtual reality and digital marketing companies that represent over 16,000 full-time employees. The sector is poised to add thousands of additional well-paying, family supporting jobs by the year 2020 due to rapid global growth in interactive and digital media. Employees in the tech sector earn 75% more than the average wage in BC, according to BC Stats. DigiBC wants to ensure that BC can continue to retain highly-skilled workers and attract new workers to our vibrant tech sector, as well as others who bring their families to our province and contribute to our local economies. BC is one of the global centres of creative technology and the industry has a key role to play in attracting talent to the broader tech industry.
The Premier made the announcement during a Chinese Lunar New Year parade in Vancouver yesterday, saying that the tax had cooled the real estate market when it came to speculative investment from non-residents, but that lifting the levy for those who work and pay tax in BC is a way to encourage more people to come and work in the province. The announcement to lift the 15% foreign buyers tax will help our sector continue to thrive in BC's growing and diversified economy.
"BC's IDM sector is where creative and technology skill sets come together, resulting in one of the world's leading creative technology hubs," said James Hursthouse, Board Chair of DigiBC. "Video games, animated movies, visual effects, virtual reality and digital marketing companies are a growing contributor to the broader technology industry in BC, and the broader tech industry is an important and exciting opportunity for all British Columbians. BC's diversity is a huge part of our strength as a province and our ability to retain and attract the best and brightest from around the world is a crucial aspect for a vibrant, growing tech sector."
About DigiBC
DigiBC is the industry association for interactive and digital media (IDM) companies in British Columbia. Our members include multi-national companies such as EA (Electronic Arts), Sony Imageworks, Capcom, Microsoft, Relic Entertainment (Sega), and Namco Bandai, as well as a slate of homegrown success stories such as Hootsuite, Conquer Mobile, Hinterland Studio, PlaceSpeak, Finger Food Studios, Klei Entertainment, Thunderbird TV and Archiact Interactive. These companies are creating innovative products and services in video gaming, animation, visual effects, and digital marketing across traditional and emerging platforms, including VR, AR and MR. Collectively, BC has over 800 IDM companies, which employ over 16,000 people and generate $2.3 billion in annual sales – making the sector one of the most significant contributors to British Columbia's economy.

For more information, email James Hursthouse (exec@digibc.org) or visit www.digibc.org
---