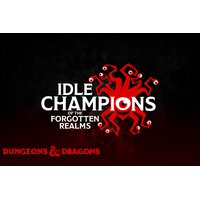 VICTORIA, BC - June 27, 2017 - Codename Entertainment is proud to announce Idle Champions of the Forgotten Realms, the world's first idle clicker game set in the celebrated universe of the Forgotten Realms®. The game is the studio's first licensed video game in partnership with Wizards of the Coast LLC, a subsidiary of Hasbro, Inc.

Idle Champions of the Forgotten Realms will take the player on an epic quest throughout the fabled Sword Coast. Newcomers to the world of Dungeons & Dragons will learn about their new home through the game. Seasoned fans will have the opportunity to revisit popular storylines and even learn new knowledge as they play.
Force Grey fans will also discover familiar characters in the game at launch. Two of the starting ten Champions are taken from the popular series.

From launch, the game will feature scheduled updates every month, with new campaigns and regular events, including the recently announced Tomb of Annihilation adventure.

Idle Champions of the Forgotten Realms will be available on PC in Q3 2017.

Sign up for further information at www.IdleChampions.com and search for 'Idle Champions of the Forgotten Realms' on Steam.
About Codename Entertainment
Codename Entertainment Inc. is the award-winning indie video game studio based in Victoria, British Columbia. The studio's last game, Crusaders of the Lost Idols, has remained popular since launching in 2015. It has stayed in the Top 1% of games by current player count on Steam. It's also one of the Most Played games out of more 113,000 on Kongregate.com, and it is consistently ranked in the Most Popular Games on Armorgames.com.
About Wizards of the Coast
Wizards of the Coast LLC, a subsidiary of Hasbro, Inc. (NASDAQ:HAS), is the leader in entertaining the lifestyle gamer. Wizards' players and fans are members of a global community bound together by their love of both digital gaming and in-person play. The company brings to market a range of gaming experiences under powerful brand names such as Magic: The Gathering and Dungeons & Dragons. For more information about our world renowned brands, visit the Wizards of the Coast Web site at www.wizards.com
---