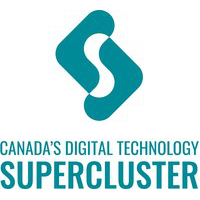 Canada's Digital Technology Supercluster will position Canada as a global leader using big data to advance economic opportunities and address the biggest productivity, health,
and sustainability challenges facing Canadians and the world today. It is anticipated that the supercluster will invest more than $1.4 billion over a 10 year period and fund over 100 collaborative projects involving more than 1,000 organizations across Canada. The projections indicate that efforts during this time will generate an estimated $15 billion in incremental GDP and 50,000 new jobs.
Products and platforms that emerge will enable companies to scale up – ultimately making Canada more attractive to startups and international talent and investment. The Digital Technology Supercluster will advance projects that are guided by defined industry needs and will draw upon capabilities from participants to advance solutions using virtual, mixed and augmented reality, data analytics, and quantum computing.
The consortium includes founding members TELUS, Microsoft, Teck, Change Healthcare, Providence Health Care, and the University of British Columbia. Since being short-listed as one of nine applicants, new members have joined, including Shoppers Drug Mart, Canfor, GE Digital, The Terry Fox Research Institute, University Health Network ("UHN") - Princess Margaret Cancer Centre, SickKids and over 200 other organizations and post-secondary institutions resulting in over $500 million in committed funding.

Please refer to the news release for further details: Canada's Digital Technology Supercluster
---