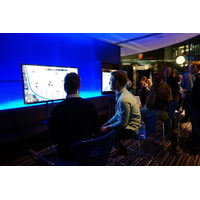 VANCOUVER, BRITISH COLUMBIA -- (Marketwired - Feb. 17, 2015) - DigiBC, the non-profit association representing the digital media and wireless industry of B.C., commends the Government of British Columbia for renewing the Interactive Digital Media Tax Credit (IDMTC), and the association says the program reaffirms the Province's support for a world-class digital media hub in British Columbia.
The IDMTC was a catalyst that helped sustain the industry and minimize job losses during the global economic downturn prior to 2010. After the global economy rebounded, the IDMTC helped kick-start new digital and wireless companies in the province and jump-started hiring by companies. Over the past five years, the IDMTC has helped grow B.C.'s digital and wireless workforce to 4,600 full-time employees at both large global and independent local companies, and helped drive a 36 per cent increase to the sector's GDP contribution to $705 million. Today, the industry provides more taxation revenue to the provincial treasury than it receives from the tax credit.
"The Government of British Columbia recognizes the positive impact that a growing digital media sector is having on our economy," said Howard Donaldson, President of DigiBC. "The IDMTC encourages innovative technology companies to establish global and regional headquarters in B.C., bringing high-paying jobs that benefit the entire economy. The continuance of the tax credit will lead to continued success, a stronger industry sector, and a leadership position in one of the world's fastest growing industries.
A competitive tax structure has encouraged growth in local independently owned studios such as Roadhouse Interactive, Klei Entertainment and Finger Food Studios, as well as new investment from companies such as DeNA, GREE, Kabam and Namco Bandai. In addition, established companies such as Electronic Arts, Microsoft and Disney Interactive have continued to invest and fortify their position in the province.
"Today, British Columbia is a hotbed for digital innovation," continued Donaldson. "DigiBC and our members look forward to working with the provincial government to support and grow this sector by optimizing tax policy for the benefit of our home-grown industry, thousands of skilled workers here in B.C., and the communities where our members operate."
DigiBC represents companies in the areas of games, animation, online and wireless. Collectively, B.C. has 600 digital media companies, which employ approximately 16,000 people and generate over $2.3 billion in annual sales.
Snapshot: Digital Media in B.C.
Vancouver is home to one of the top video game clusters in the world, including top publishers such as Electronic Arts, Activision, Disney, Microsoft, DeNA, GREE, CAPCOM, Kabam and Sega.

The Electronic Arts studio in Burnaby is one of the largest studios of its kind in the world.

Digital Media is one of the fastest growing industry sectors at 11% per year and has a strong symbiotic relationship with the North American film and TV sector.
About DigiBC
DigiBC is a member-supported, non-profit organization based in Vancouver. Its mission is to make B.C. a globally-recognized center for Digital Media and Wireless excellence. Members include world-class companies such as Electronic Arts, Disney Interactive, Microsoft, Wavefront, HootSuite and Sony Interactive. More than 1,300 companies in the Digital Media sector create innovative products in wireless and mobile, video gaming, animation and VFX, web 2.0 and social media, interactive marketing and e-learning. www.digibc.org
Contact Information
Media contact: FleishmanHillard Communications
Jeremy Twigg
604-630-0395
Jeremy.twigg@fleishman.ca
---