JETRO is pleased to host a forum to commemorate the 90th anniversary of diplomatic relations between Japan and Canada. The main theme is innovation and how Canada and Japan can work together to advance innovation to the benefit of both Canadian and Japanese companies.
There will be a presentation by JETRO to give a broad overview of business and innovation ties between Japan and Canada, after which we will hear from one of the leading players, Fujitsu Intelligence Technology, who have recently established their AI headquarters in Vancouver. We will also hear from a panel of B.C. companies that have either established operations in Japan or have formed partnerships with Japanese firms to hear how they have achieved their success and what advice they can give to other B.C. companies looking to partner with Japan.
*This event is free to attend but registration is mandatory
*Deadline is November 12
AGENDA:
9:30 am – 10:00 am: REGISTRATION / NETWORKING
10:00 am – 12:15 pm: FORUM
12:15 pm – 1:00 pm: NETWORKING RECEPTION

Welcome Remarks:
- The Honourable Bruce Ralston, Minister of Jobs, Trade and Technology
- Takashi Hatori, Consulate-General of Japan in Vancouver
- Takuji Sakai, Executive Director, JETRO Toronto

Keynote Speech:
-Naoko Yoshizawa, CEO, Fujitsu Intelligence Technology

Panel Presentation and Q&A:
- The Honourable Mary Ng, Minister of Small Business and Export Promotion

Moderator: John Tak, Strategic Advisor-Cleantech, Western Economic Diversification Canada
- 1Qbit ( 1qbit.com )
- CadMakers ( www.cadmakers.com )
- LOOPShare ( loopshareltd.com )
- Unifiller Systems Inc. ( www.unifiller.com )


Introduction of JETRO Services

Closing Remarks:
- Christian Hansen, Director and Senior Trade Commissioner, Canadian Trade Commissioner Service - British Columbia and Yukon



JETRO, or the Japan External Trade Organization, is a government-related organization that works to promote mutual trade and investment between Japan and the rest of the world. Originally established in 1958 to promote Japanese exports abroad, JETRO's core focus in the 21st century has shifted toward promoting foreign direct investment into Japan and helping small to medium size Japanese firms maximize their global export potential.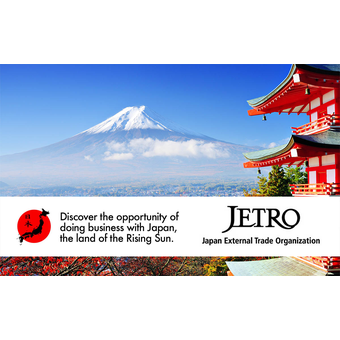 Simon Fraser University, Harbour Centre, 515 West Hastings Street, Vancouver, BC