DigiBC's mission is to promote, support and accelerate the growth of British Columbia's interactive and
digital media industry to the benefit of current and future generations.
Our membership is comprised of companies from the video game / interactive, animation, visual effects, VR / MR / AR, and digital marketing sectors, along with technology enablers and service providers who work alongside our members to help grow the creative technology economy in the province. We seek to achieve our goals through
Advocacy & Policy Engagement, Growth Programs, Talent Programs, Events, and Member Benefit Initiatives.
Vancouver Career Fair 2017 A Huge Success!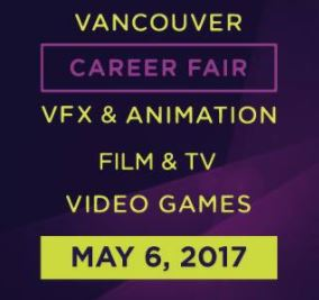 On May 6th 2017, DigiBC came out to support the Vancouver Digital Media Careers Fair at the Convention Centre.  The Fair was attended by over 1500 job seekers looking to start or build upon a career in interactive and digital media. Over thirty companies were in attendance to meet the job seekers. Our 'Picture Yourself' in Creative Tech booth was very popular!
We had a great time at the
BC Tech Summit 2017
The #BCTECH Summit was the largest technology conference in BC showcasing the province's vibrant tech industry.  DigiBC was thrilled to be a part of the summit, with Chair, James Hursthouse, co-hosting the Digital Media Track on Day 1 (March 14th) and over 400 kids visiting our booth to 'Picture Themselves' in Creative Technology Careers.
Premier Christy Clark visits Finger Food Studios as provincial 'Job Makers'
On a visit to Finger Food Studios in Port Coquitlam Premier Christy Clark had the opportunity to meet the staff and take a demo of the VR/AR products being developed. The Premier congratulated the company on becoming key 'Job Makers' with the province, bringing well over a hundred jobs to Port Coquitlam.
What We Do
Our mission is to help ensure that IDM, as a cornerstone of the broader technology sector, grows and thrives in the province to the benefit of current and future generations. We are involved in ongoing discussions with the government regarding short and long-term policy development, and working with leaders in education to help shape the curriculum from kindergarten through post-secondary to help better equip BC students for fulfilling career in IDM. We are engaged with programs to help grow the number and strength of IDM programs in the province, and hold a series of networking and professional development events. Member companies and their employees can take advantage of an ever-increasing number of member benefit programs.