WELCOME TO DIGIBC
DigiBC: The Industry Association for Digital Media in BC
DigiBC is a not-for-profit, 100% membership and sponsorship-funded organization. We represent our province's creative digital industries such as Video Games, 2D/3D Animation, Visual Effects (VFX) and Digital Innovation (such as social media, content creation & new emerging technologies). Supportive companies, channel partners and traditional companies and organizations are also DigiBC members, learning and networking to expand their digital knowledge and business initiatives.
As an association, we work together to make BC's ecosystem of creative digital industries stronger and more influential through education, networking and public policy. Our industry is only as strong as our representation. The stronger the representation is, the more influence and voice we will have.
Membership is affordable and offers special benefits for both individuals and companies. Get access to our network, attend exclusive events, receive discounts and more by joining DigiBC. Help make BC the most recognized center for digital media excellence in the world!
"Made In BC" Victoria Event a Success!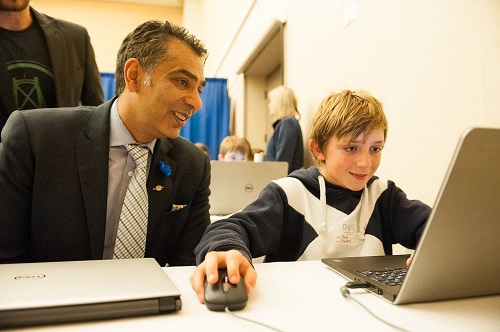 On May 4, DigiBC held a one-day event in Victoria showcasing 10 video game & interactive entertainment companies. "Made In BC" also featured a coding classroom where three dozen grade-school children learned how to code & create their own video game!  Read more and look at the photos from our event!
DigiBC Thanks Our Sponsors

DigiBC would like to thank Electronic Arts Vancouver, Roadhouse Interactive and Finger Food Studios for sponsoring May's "Made In BC" showcase event.
Without the support of these three video game studios, we wouldn't have been able to show Victoria's tech, the general public and elected government officials the creative and commercial reach that BC's video game sector has grown into.
As well, the support of these three companies allowed us to hold our first childrens' coding classroom.
Health, Dental, Life Plans from BenefitDeck
DigiBC is pleased to partner with BenefitDeck and offer our members a competitive health benefits plan. BenefitDeck is a benefits consulting company familiar with the needs of the digital media industry. With a mission to improve overall workplace wellness, cost is further reduced through a healthier, more engaged and productive team. BenefitDeck has helped a number of our members achieve maximum savings through this association plan arrangement. Learn more about the DigiBC partner plans.
About DigiBC
DigiBC's mission is to promote, support and accelerate the growth, sustainability and competitiveness of BC's digital media industry.