What makes for a memorable story? Why does it stick with us even after the experience is over? How does it happen in movies, video games, and VR?
Join award-winning writer and narrative designer Arthur Protasio as he answers these questions in this immersive storytelling workshop! Learn storytelling fundamentals and the challenges in crafting content for new media through Arthur's experience working on the Cobra Kai video game, Emmy nominated "Now Generation", and cooperative VR "Mickey Mouse and the Golden Heart". Then, apply that knowledge to your own projects!
Note: Please RSVP in order to receive a link to the event via email. The Zoom meeting link will also be accessible on Eventbrite's online event page once you register.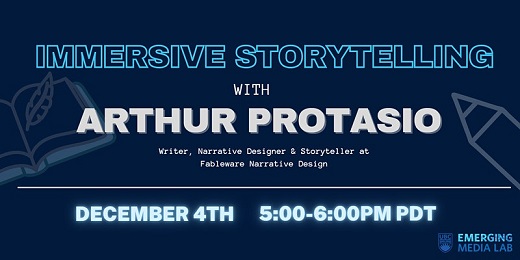 About the UBC Emerging Media Lab:
EML is an experimental space where faculty, students, and staff from all disciplines collaborate with industry and community. Its mission is to evolve learning by creating tools and techniques using emerging media. Our lecture and workshop series are open to the public to encourage exploration, experimentation, and development of ideas that may eventually enhance learning and research at UBC.