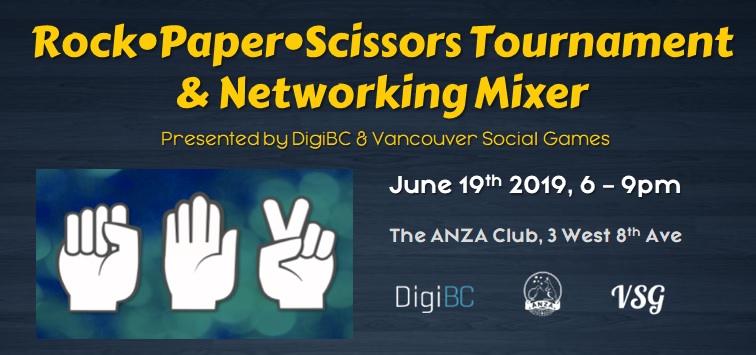 DigiBC's next networking mixer event is a collaboration with Vancouver Social Games (VSG) and we'll be putting on a classic, head-to-head tournament of none other than Rock Paper Scissors… with a bit of standup comedy from the hosts thrown in! The last one we did back in February was such a blast that we decided we had to do it all over again (check out the video clip below to get an idea of what happens). It's quite a fun event with lots of audience participation and networking before and after the tournament.
If you think you have an exceptional strategy or secret game plan you want to put to the test then come out and try your hand on May 15. This will also be a great opportunity for members of the creative tech sector (animation, VFX, video games, VR/AR/MR) to meet and get to know one other.


EVENT DETAILS
Date: Wednesday, June 19, 2019
Time: 6:00PM – 9:00PM
Location: ANZA Club, 3 West 8th Ave, Vancouver, BC

This will take place at the ANZA Club (Vancouver's favourite, one-of-a-kind social club and watering hole) located in the heart of Mount Pleasant, and it will be hosted by Scott Patey and friends (aka PayDay Productions comedians). The Rock, Paper, Corduroy night they established back in 2011 at the Corduroy in Kits has now turned into one of the city's most epic events! Scott is a professional actor, host, and improviser with over 15 years of experience under his belt.
RSVP LINK
You can RSVP for your spot by clicking here.
CALL FOR SPONSORS
We are currently seeking sponsorship and can work with your company to create exposure and acknowledgment at the event. Sponsorship is a great way to connect with and promote your brand industry professionals in the video game, animation, VFX & VR/AR sectors. Please contact us (team@digibc.org) if you are interested and we can provide you with further details.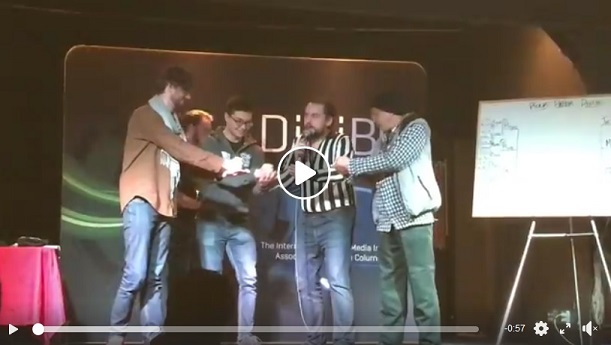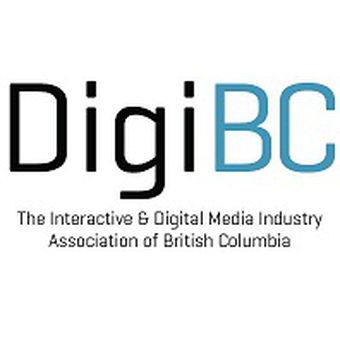 3 W 8th Ave, Vancouver, BC V5Y 1M8, Canada