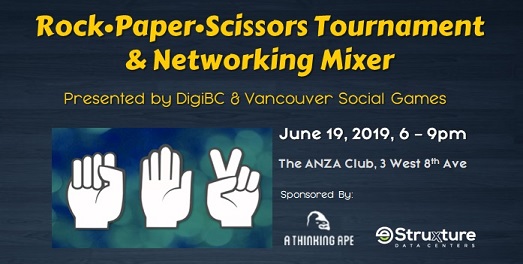 DigiBC's next networking mixer event is a collaboration with Vancouver Social Games (VSG) and we'll be putting on a classic, head-to-head tournament of none other than Rock•Paper•Scissors… with a bit of standup comedy from the hosts! The last one we did back in February was such a blast that we decided we had to do it all over again (check out the video clip below to get an idea of what happens). It's quite a fun event with lots of audience participation and networking before and after the tournament.

EVENT DETAILS
This will take place at the ANZA Club (Vancouver's favourite, one-of-a-kind social club and watering hole) and it will be hosted by Scott Patey and friends (aka PayDay Productions comedians). The Rock, Paper, Corduroy night they established back in 2011 at the Corduroy in Kits has now turned into one of the city's most epic events! Scott is a professional actor, host, and improviser with 15+ years of experience.
RSVP LINK
You can RSVP for your spot by clicking here.
SPONSORED BY:
ATA's goal is to change how people socialize and play on mobile. They are fascinated with human behavior and love to create unique worlds where powerful social communities can grow and thrive. With four live mobile games and another in the early stages of development, they have huge aspirations and big plans for growth. If you're looking, they're hiring! Come join one of the 'Best Workplaces in Canada (2019)' and be part of a team that values ownership, creative freedom, data-driven decisions, and meritocracy over hierarchy.
eStruxture Data Centers
eStruxture provides network and cloud-neutral data center solutions designed with the capacity, performance and flexibility to run modern, demanding enterprise applications. With five facilities in Montréal and Vancouver, the company provides access to an ecosystem of over 900 customers that trust and depend on eStruxture's mission-critical infrastructure and customer-centric support, including carriers, cloud providers, media, content, financial services, and enterprise customers. eStruxture offers colocation, private cloud, managed services, bandwidth, and security and support services to customers of all sizes.
PRIZE DONATIONS FROM:
eStruxture Data Centers >> Oculus Go (door prize)
East Side Games
PayDay Productions
ANZA Club
DigiBC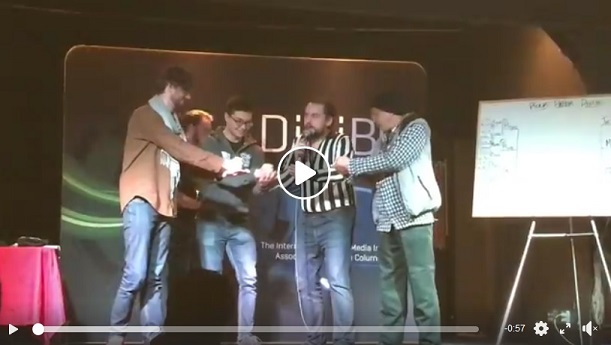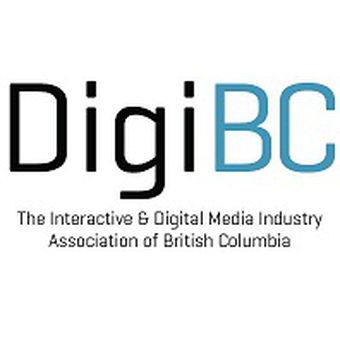 3 W 8th Ave, Vancouver, BC V5Y 1M8, Canada