Tech Collective is thrilled to host Boris Wertz, founding partner of Version One VC, in conversation with Hayley Woodin of Business in Vancouver!
Boris is founding partner of Version One and one of the top early-stage tech investors in North America. He is a board partner with Andreessen Horowitz and is well-respected for his uncanny ability to find the next generation of leaders.
Today, Boris is focused on crypto/blockchain, marketplaces and SaaS, looking for the best teams who solve big problems in a unique way.
Before becoming an investor, Boris built an online marketplace for used and out-of-print books - AbeBooks.com which was acquired by Amazon.
A former Pacific Ernst & Young Entrepreneur Of The Year, Boris is passionate about science, technology, and entrepreneurship and sits on various community boards and mentors with various tech incubators.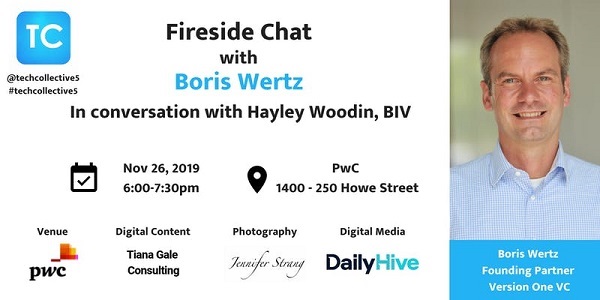 1400-250 Howe Street, Vancouver, BC