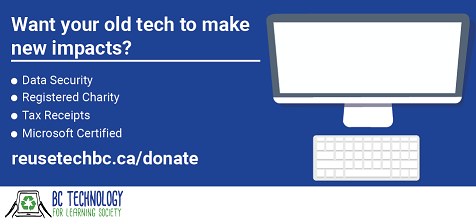 We are all hearing about kids and community groups not having access to technology during the COVID-19 pandemic. Do you have old tech in your home or office and would like to get it to someone in need?
The BC Technology for Learning Society is a registered charity that trains and hires youth to refurbish donated computers and then distributes them to schools, non-profits, libraries, Indigenous communities and students. Data security is a top priority and they follow strict procedures to ensure that all information is wiped from hard drives received. They are also an official Microsoft Refurbisher and EPRA verified, meaning they are held to high standards in every step of the refurbishment process. By donating your tech to a registered charity, you may be eligible for a tax receipt for the fair market value of the equipment.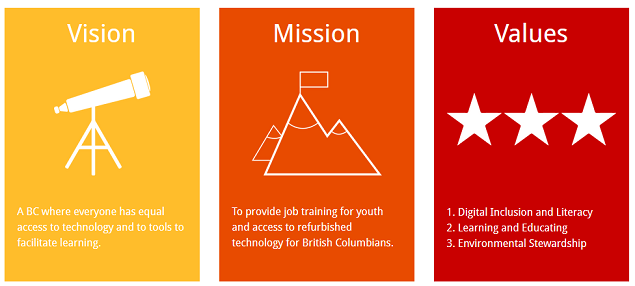 Since 1994, we have delivered the Computers for Schools Plus program across British Columbia, distributing over 170,000 computers! BC Technology for Learning Society is authorized by Innovation Science & Economic Development Canada (ISED) to deliver the Computers for Schools (CFS+) program in BC. We are part of 14 other organizations across Canada delivering CFS+. Thank you to the Government of Canada for funding this important work. Computer for Schools Plus (CFS+) is a national partnership-based program that refurbishes digital devices donated from government, private business and individuals for use by schools, libraries, not-for-profit organizations, Indigenous communities and eligible low-income individuals. This program is funded by the Government of Canada.