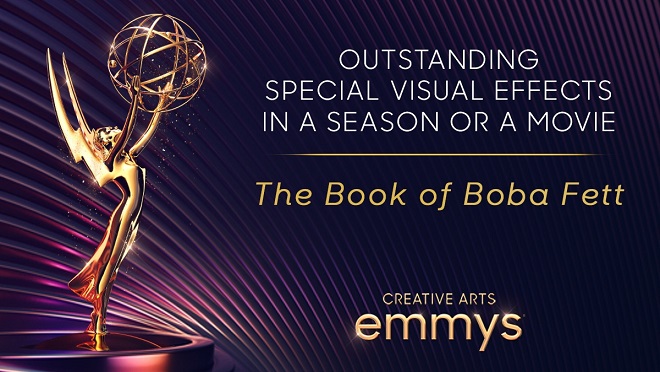 DigiBC member Image Engine, a Vancouver-based visual effects studio for feature films and television, won the Emmy Award in the 'Outstanding Special Visual Effects in a Season or a Movie' category for its remarkable VFX work on the Star Wars adventure, The Book of Boba Fett.
At the Creative Arts Emmy Awards ceremony in Los Angeles hosted on September 4, 2022, the award was presented to Image Engine's Visual Effects Supervisor Robin Hackl, as well as Richard Bluff, Visual Effects Supervisor; Abbigail Keller, Visual Effects Producer; Paul Kavanagh, Animation Supervisor; Cameron Neilson, Assoc. Visual Effects Supervisor; Scott Fisher, Special Effects Supervisor; John Rosengrant, Legacy Effects Supervisor; Enrico Damm, ILM Visual Effects Supervisor; and Landis Fields, Virtual Production Visualization Supervisor. Learn more on the Emmys website.
Well-versed in the planets, creatures, droids, and aesthetic of Star Wars already from working on the show's predecessor, The Mandalorian seasons 1 and 2, Image Engine was able to jump into the fray to create extensive Mos Espa cityscapes, jetpack-powered shootouts, Scorpenek droids with indomitable energy shields, speeder bikes driven by the cyborg street gang, and more for Lucasfilm's Disney+ Original series The Book of Boba Fett.
Click here to read the full press release
Abbigail Keller, Cameron Neilson, Scott Fisher, Robin Hackl and Landis Fields were the winners of the
'Outstanding Special Visual Effects in a Season or a Movie' category for their work on Disney+'s 'The Book of Boba Fett'