Doberman Pictures is best described as a storyteller studio that specializes in pre-production for animated series doing boards, animatics and design. The company is located in Vancouver and was initially founded in 2018 by Jim Corbett, Craig Roberts, Dallas Parker with Rob Simmons joining shortly after. Each of them brings 20+ years of experience in the animation business having produced, directed and financed many shows over the span of their careers. Jim has a long history with CG production, while Craig and Dallas come at things from the creative side of the business, originally as traditional animators but also having done every job from script to screen. Rob has helped grow the Vancouver animation sector over the years and is now Doberman's business head. We recently caught up with Doberman to see what's been happening at the studio, what's on the horizon and how they have been adapting to the COVID-19 pandemic.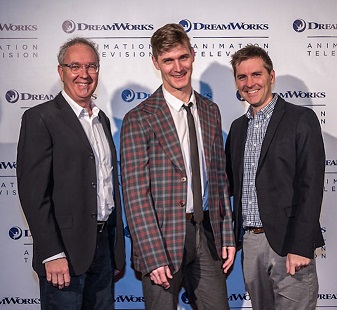 Jim Corbett, Craig Roberts, Dallas Parker

What projects are you currently working on?
We're currently working on a yet-to-be-announced CG series with our valued partners at DreamWorks Animation.
What shows have you previously worked on? Which of these are you most proud of?
Really tough question, who's your favourite child? Collectively we've worked on a LOT of shows. Jim might say Reboot, as it holds such a place in people's hearts and means so much to the history of animation in Vancouver and for CG in general. Craig and Dallas had a lot of fun working on the series The Mr. Peabody and Sherman Show and The Adventures of Rocky and Bullwinkle (which are also the shows that helped us build our relationship with DreamWorks). But the show we are all most proud of is Rhyme Time Town as it was Doberman's first series completed as a studio and we're really proud of the way it turned out.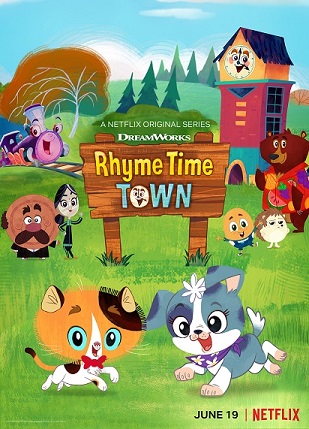 How would you describe your company culture?
Doberman strives to keep our team sizes small. By focusing on smaller pieces of the production pie, we're able to achieve more intimate team sizes and it's really worked well so far. Animation can be challenging and having those bonds between crew mates is an inspiration to strive for better. We have 'DoberScrums' twice weekly where within the course of about 20 minutes everyone can talk about what they're doing that day and we can all have a couple of laughs along the way.
What would you say sets Doberman apart from other studios?
Being very much an artist run studio where our focus is squarely on the craft of animation. We want to continue to nurture our talented crew in order to create better and better content, while always moving towards being the studio that is synonymous with quality and innovation. We really just want to do great work and have fun doing it.
Has the studio won any awards or received any accolades?
As a studio, no awards yet - but we're young, the awards are coming! A testament to the quality of work that we do is the ongoing relationship we've built with DreamWorks though. Over the last seven years we've worked exclusively with them, completing five series of varying scopes of work. Since Doberman started, we've also worked with the DreamWorks development team on a dozen different television properties from design to boards to animation to all of the above!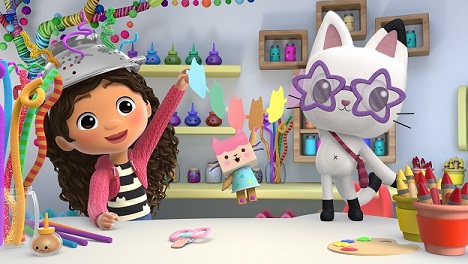 Gabby's Dollhouse (DreamWorks Animation Television)

Are there any exciting facts about Doberman we may not know about?
We have an amazing coffee machine that nobody knows how to use and we built all of our own desks from plywood and 2x4s.
Are you currently hiring? If so, what are the open positions?
WE ARE hiring! We're a growing studio and are always looking to establish connections with talent who want a relationship with a studio that's a bit more cozy. Right now we're looking for an Orthographics Artist and details for that be found here - dobermanpictures.ca/jobs
Are there any updates you would like to share about how the studio has been adapting to WFH and working through the COVID-19 pandemic?
Like our peers in the animation sector, we rapidly adapted to a studio dominated by a WFH reality, and we've been impressed with the tenacity and resilience of our crew. They've been, in a word... remarkable! We've learned a lot about the enduring benefits of working remotely but have also learned to cherish the studio environment as it's impossible to replace the collaboration digitally. We aspire to take the best of both situations when 'normal' is normal again.