We will be doing two draws and selecting four lucky winners (two for each program) who will receive free tuition!
• VCC: Production for Animation and VFX
• UVic: Unity® for Creative Technology

Contest Details:
►Submit your name, email & program choice (UVic or VCC) to team@digibc.org
►Deadline is December 15 @ 6:00pm
►Winners will be notified by email on December 20
---
Production for Animation and VFX
Dates: January 11 – April 19, 2023
Day/time: Wednesdays, 6-9pm
Format: Face-to-face & online in a blended model
Instructors: Shawn Smolensky (ILM Vancouver) & Sandi Gisbert (Wind Sun Sky Entertainment)
This program offers focused and specialized training for production roles in animation and VFX studios. It consists of four courses and is offered part-time to support working professionals. A great option for:
• Junior production assistants and coordinators needing additional training
• Existing employees looking to gain specific skills to move into production
• Those reskilling from adjacent roles and industries
• Those looking to enter the industry and start a production career in animation and VFX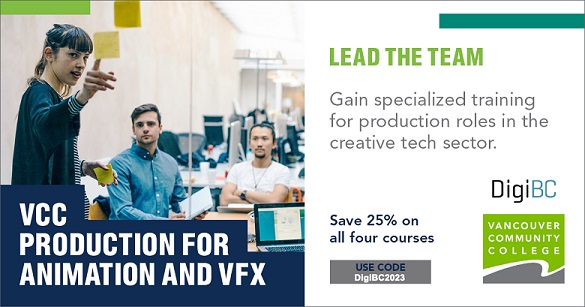 ---
Unity® for Creative Technology (UCT)

Dates: January 24 - March 2, 2023
Days/Time: Tuesdays & Thursdays, 6-9pm
Format: Part-time, online hybrid
Instructor: Charles Hache (certified Unity instructor)
This program introduces learners to real-time interactive 2D and 3D essentials, and the fundamentals for building virtual experiences through the Unity platform. It also includes testing and preparation for participants to obtain their Unity Certified User: Programmer certification. Designed and best suited for:
• Software engineers or graduates of computer science or software engineering
• Technical artists or graduates of technical art programs
• Graduates of fine arts programs with at least four to six months of object-oriented programming experience
►A 100% tuition subsidy for this course is available to those actively enrolled in full-time post-secondary studies! Click on the link above for further details and feel free to share this info with any students you know who might want to take advantage of this offer.