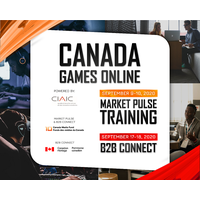 VANCOUVER, BC, September 1, 2020 — Video game studios are invited to take their business to the next level with Canada Games Online. This inaugural two-part event, presented by the Canadian Interactive Alliance/ l'Alliance Interactive Canadienne (CIAIC), features free and subsidized programming that will provide training and facilitate connections to leading publishers and investors such as 505 Games, Electronic Arts, Nintendo, NetEase and more.

Canada Games Online: Market Pulse Training takes place September 9th and 10th, 2020. This free two-day event includes five online training workshops presented by international industry experts, with a focus on pitching and understanding major video game markets.

Canada Games Online: B2B Connect takes place September 17th and 18th, 2020. This 48-hour online networking event connects Canadian video game business leaders with compatible publishers and investors from around the world, such as Electronic Arts, Nintendo, Ubisoft, Sega, Konami, Microsoft, NetEase Games, Square Enix, 505 Games and more.
"This high value event came about through the collaboration of provincial trade associations from across the country," states Brenda Bailey, Executive Director of DigiBC and CIAIC Board Member. "Joining our efforts to support our industry during the COVID-19 crisis is a shared priority from coast to coast. While many video game studios are benefiting from increased consumption and market expansion during the pandemic, this is not the case for all. Some smaller or newer studios are near collapse, so this program is designed to assist them, as well as support the continued growth of the many successful Canadian studios," Bailey explains.
Canada Games Online would not be possible without the support of the Canada Media Fund and Canadian Heritage, who continue to invest resources that drive industry innovation.
Interested studios, investors and publishers can learn more and register, by visiting https://canadagamesonline.com/
About the Canadian Interactive Alliance (CIAIC)
The Canadian Interactive Alliance/ l'Alliance Interactive Canadienne (CIAIC) is a not-for-profit trade association that serves as the voice of Canada's interactive digital media industry, in conjunction with provincial interactive digital media trade associations.
-- 30 --
---