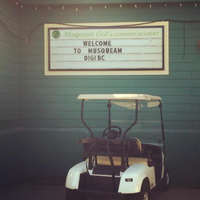 DigiBC would like to thank everyone that participated in the First Annual DigiBC Fun Golf Tournament yesterday!
We could not have asked for more beautiful Vancouver weather, and all the players had their sunblock and smiles on for the day. Players of all levels joined in for the tournament -- from the seasoned golfer to some that were picking up a club for the first time. It was a great time had by all, and a chance for casual intimate networking for those in the industry.
We would like to thank the teams that registered: PwC, Slant Six Games, Vanedge Capital, Orefront, V7, EA, Dare, Peter Eller Communication Design, Tagga Media, BCIT D3 Department, FutureStep, New Indigo Ventures, Conquer Mobile, Loud Crow Interactive and more. Thanks to the DigiBC board members that came out to support: Sandy Fleischer, Amielle Lake, Howard Donaldson and Jon Lutz.

We would also like to thank our generous sponsors BenefitDeck Consulting and TACIS (Total Access Corporate Insurance Services) for taking care of the putting contest and the prizes! These events are not possible without sponsors like you! A special thank you to Matt Barkhoff from Musqueam Golf Course for helping facilitate the tournament and working so hard to make everything run so smoothly -- we appreciate it greatly!
DigiBC is looking forward to next year's tournament, and we hope to make it bigger and better than this year's! Make sure to check the event calendar for upcoming DigiBC events.

---